In-Vehicle Display Icons and Other Information Elements: Volume I
PDF files can be viewed with the Acrobat® Reader®
CHAPTER 8: ICON COLLECTION
Introduction: Generating new icons is a time-consuming and error-prone task. Designers can save time and develop more effective icons if they can draw upon proven icon designs rather than create new ones. Unfortunately, icons for in-vehicle systems are not collected in a single location, but are dispersed over the internet, held in proprietary collections, and sold in large clip art collections. In addition, these icon sources are not organized in a way that can be easily matched to the functions and features of in-vehicle information systems. The Icon Collection seeks to overcome these difficulties by providing designers with a set of candidate icons organized according to the functions and characteristics of in-vehicle information systems.
The ideal situation would be one where a designer could simply take set of messages associated with an in-vehicle function and look up that function in the Icon Collection to identify the appropriate icon. Unfortunately, this is not possible. Many messages do not have icons associated with them, so new icons must be designed. Also, many candidate icons are obviously poor; existing icons may be useful only as bad examples or as inspiration for new designs. Over time, additional icons will be developed for more in-vehicle systems and the Icon Collection can be expanded; however, it will never offer a complete solution to the designer. The characteristics of a "good" icon depend on the particular system and implementation. The collection provides designers with a well-organized collection of "good" and "bad" candidate icons that can inspire them and reduce development time.
The Icon Collection is organized according to the functions of in-vehicle systems. Functions such as routing and navigation are composed of subfunctions such as trip planning and route guidance. Each subfunction may have several messages, such as "price ranges for lodging along route" and "total trip time" for the subfunction of trip planning. The table below lists the functions and subfunctions that describe in-vehicle information systems along with the page number associated with each function.
For each message, the Icon Collection shows the source, an icon that matches the message, and comments regarding the source of the icon. For example, the extract below shows an icon for the message "Lodging" for trip planning. In some cases, the symbol was edited in some manner to make it more relevant to the referrent (e.g., text may have been added or symbols combined) and this is indicated in the "Notes" area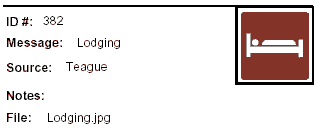 The icons in the Icon Collection come from six sources: (1) the Internet, (2) commercially available clip art (e.g., Corel®), (3) noncommercial picture files available on the contractor's intranet (cited as "Clickart"), (4) the automotive electronics industry, (5) past and present research and development efforts in the area of driver information (example sources include: ISO, "Drawn" (drawn by the contractor), SODS (a project conducted for the National Highway Traffic Safety Administration (NHTSA) in 1995), and the MUTCD), and (6) Teague (an industrial design firm under subcontract to the contractor during this project).