FHWA Asset Management Position Paper
Right-of-Way and Asset Management
The purpose of this paper is to define the relationship between transportation asset management and transportation system planning and to describe the current, and potential future, activities of the FHWA Office of Real Estate Services (ORES) that support the implementation of asset management. The paper is one of a set of seven papers exploring the relationship of asset management to each of FHWA's major program areas including planning, right-of-way, environment, infrastructure, safety, operations, and Federal lands.
Section 1.0 provides a general overview of asset management relevant to all program areas. Section 2.0 defines the relationship between planning and asset management. Section 3.0 describes current, and potential future, activities of ORES that support asset management.
1.0 Overview of Transportation Asset Management
1.1 Definition of Asset Management
Transportation asset management is a set of guiding principles and best practice methods for making informed transportation resource allocation decisions, and improving accountability for these decisions. The term "resource allocation" covers not only allocation of money to program areas, projects, and activities but also covers deployment of other resources that add value (staff, equipment, materials, information, real estate, etc.). While several of these principles and practices were initially developed and applied within the domain of infrastructure preservation, most established definitions of asset management are considerably broader. The Asset Management Guide,[1] recently adopted by AASHTO defines asset management as:
"... a strategic approach to managing transportation infrastructure. It focuses on...business processes for resource allocation and utilization with the objective of better decision-making based upon quality information and well-defined objectives."
As Mary Peters, FHWA Administrator has frequently put it:
"If I have one additional dollar to spend on the transportation system, what is the most effective way to spend it?"
The essence of asset management is answering that question.
Asset management is concerned with the entire life cycle of transportation decisions, including planning, programming, construction, maintenance, and operations. It emphasizes integration across these functions, reinforcing the fact that actions taken across this life cycle are interrelated. It also recognizes that investments in transportation assets must be made considering a broad set of objectives, including physical preservation, congestion relief, safety, security, economic productivity, and environmental stewardship.
1.2 Asset Management Principles
The core principles of asset management are:
Policy-Driven - Resource allocation decisions are based on a well-defined and explicitly stated set of policy goals and objectives. These objectives reflect desired system condition, level of service, and safety provided to customers, and typically are tied to economic, community and environmental goals as well;
Performance-Based - Policy objectives are translated into system performance measures that are used for both day-to-day and strategic management;
Analysis of Options and Tradeoffs - Decisions on how to allocate resources within and across different types of investments (e.g., preventive maintenance, rehabilitation, pavements, bridges, capacity expansion, operations, different modal mixes, safety, etc.) are based on an analysis of how different allocations will impact achievement of relevant policy objectives. Alternative methods for achieving a desired set of objectives are examined and evaluated. These options are not constrained by established organizational unit boundaries - for example solving a congestion problem could involve a capacity expansion or an operational improvement (e.g., signal coordination). The best method is selected considering the cost (both initial and long-term) and likely impacts on established performance measures. The limitations posed by realistic funding constraints must be reflected in the range of options and tradeoffs considered;
Decisions Based on Quality Information - The merits of different options with respect to an agency's policy goals are evaluated using credible and current data. These data may apply to specific functions (e.g., pavement and bridge management, traffic monitoring) or reflect a more integrated, corporate view.[2] Where appropriate, decision support tools are used to provide easy access to needed information, to assist with performance tracking and predictions, and to perform specialized analysis (e.g., optimization, real-time simulation, scenario analysis, life-cycle cost analysis, benefit/cost analysis); and
Monitoring to Provide Clear Accountability and Feedback - Performance results are monitored and reported for both impacts and effectiveness. Feedback on actual performance may influence agency goals and objectives, as well as resource allocation and utilization decisions.
These principles are not unfamiliar, nor are they radical. Most transportation practitioners would agree that investment decisions should be based on weighing costs against likely outcomes, that a variety of options should be considered and evaluated, and that quality information is needed for decision-making. Many agencies are now pursuing performance-based approaches to planning and programming, monitoring system performance, and developing more integrated data and analysis tools to evaluate tradeoffs among capital expansion, operations, and preservation activities. Most agencies recognize that application of asset management principles is critical in times of constrained resources, when all investment and budget decisions are subject to increased public scrutiny.
1.3 Asset Management Practice
Figure 1 illustrates the strategic resource allocation process that embodies the asset management principles presented above.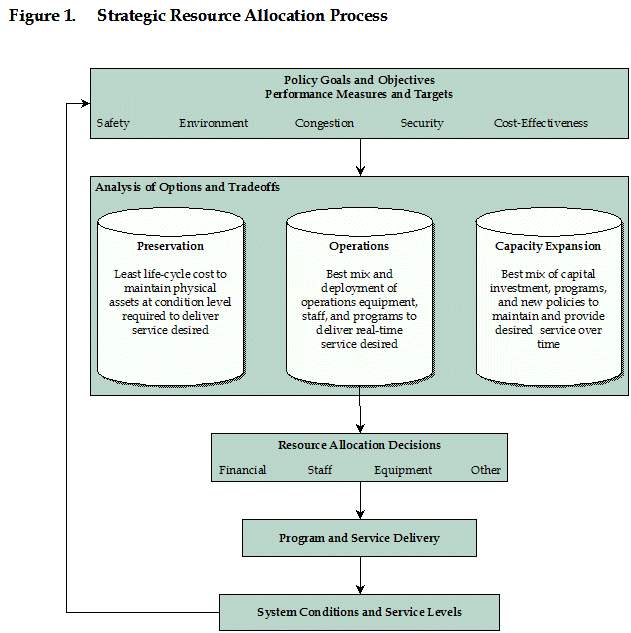 The diagram includes the following elements:
Policy Goals and Objectives, supported by performance measures are established through the policy and system planning process and used to guide the overall resource allocation process.
Analysis of Options and Tradeoffs includes examination of options within each investment area, as well as tradeoffs across different investment areas. The definition of investment areas is flexible and can be tailored to how an individual agency does business. For example, an agency may have a separate safety investment area and also incorporate consideration of safety within system preservation, operations, and capacity expansion expenditures. Each option and tradeoff is evaluated with respect to established agency goals and performance objectives.
Resource Allocation Decisions are based on the results of tradeoff analyses These decisions involve allocations of financial, staff, equipment, and other resources to the different investment areas and/or to different strategies, programs, projects, or asset classes within an individual investment area.
Program and Service Delivery is accomplished in the most cost-effective manner which again involves consideration of different delivery options (e.g., use of contractors, interagency agreements), as well as a delivery tracking process involving recording of actions taken, costs, effectiveness, and lessons learned to guide future activity.
System Conditions and Service Levels are tracked to see the extent to which established performance objectives are being addressed. This information is used to refine policy goals and priorities (e.g., put more emphasis on safety in response to an increase in crash rates).
1.4 Transportation Investment Categories
In Figure 1, the box labeled "Analysis of Options and Tradeoffs" shows three types of investment categories - preservation, operations, and capacity expansion. These are defined as follows:
Preservation encompasses work to extend the life of existing facilities (and associated hardware and equipment), or to repair damage that impedes mobility or safety. The purpose of system preservation is to retain the existing value of an asset and its ability to perform as designed. System preservation counters the wear and tear of physical infrastructure that occurs over time due to traffic loading, climate, crashes, and aging. It is accomplished through both capital projects and maintenance actions.
Operations focuses on the real-time service and operational efficiency provided by the transportation system for both people and freight movement on a day-to-day basis. Examples of operations actions include real-time traffic surveillance, monitoring, control, and response; intelligent transportation systems (ITS); signal phasing and real-time signal controllers at intersections; HOV lane monitoring and control; ramp metering; weigh-in-motion; road weather management; and traveler information systems. Although operations focuses on system management, the infrastructure needed to provide this capability may be substantial (e.g., traffic control centers; ITS hardware; environmental sensors and fire control systems in tunnels). Thus, an operations strategy requires capital and operating budget as well as substantial staff resources.
Capacity expansion focuses on the actions needed to expand the service provided by the existing system for both people and freight. Capacity expansion can be achieved either by adding physical capacity to an existing asset, or acquiring/constructing a new facility.
These three categories are defined in order to show that:
Asset management is not just about preservation of highway network assets; it is about making investment decisions that address a wide range of policy goals.
The three categories provide a simple, useful way for decision-makers to align program investment categories and priorities with key policy objectives. For example, many agencies establish a "preservation first" policy or favor maximizing efficiency of operations prior to investing in new capacity.
The categories may present alternative ways of meeting a policy goal. For example, it may be appropriate to consider operational improvements to address a congestion problem as an alternative to adding a new lane.
Decisions about the resources allocated to each category cannot be made independently. Meeting many policy goals (e.g., safety) may require a mix of investments across these categories. Similarly, an increase in capacity expansion investments may require increased operations and preservation expenditures at some point in time.
As noted above, tradeoff analysis may be done across investment categories as well as within them. An agency might wish to define investment areas coincident with the three categories discussed above (preservation, operations, capacity), or they may define a different set of categories. For example, a safety program could be defined as an investment category, with subareas for operational activities (e.g., signs, markings, signalization, channelization, etc.), preservation (replacement of guardrails), and capacity (project design features supporting safety, e.g., wide shoulders). This would provide the framework for understanding the best mix of complementary actions within the safety area as well as tradeoffs between safety and other objectives.
1.5 Asset Management and the Transportation Planning Process
A common reaction to the broad description of asset management is "how is this different from the overall planning and programming process in an agency?" The response is that asset management is not a new kind of business process that replaces planning and programming. Rather, it should be viewed as a set of best practices to be employed within the established planning and programming framework. Existing regulations pertaining to the planning process, together with statutes related to specific funding programs and their allocation criteria, and the body of environmental regulations affecting transportation planning - provide the context within which asset management practice occurs. In terms of Figure 1, transportation regulations and statutes impact establishment of policy objectives, the manner in which options are generated and evaluated, and they also provide certain constraints on resource allocation (based on Federal and state funding eligibility restrictions). Many of the core principles of asset management are embodied in the existing planning regulations (e.g., consideration of alternatives). Examining the planning process using the lens of asset management provides an opportunity to explore ways to continue to strengthen the mission of transportation planning - for example:
How to improve connections between long-range planning and resource allocation;
How to strengthen agency and public consideration of preservation and operations investments within the long-range planning process;
How to better integrate environmental considerations throughout the transportation planning and decision-making process - across capacity, operational and preservation investments; and
How to provide a common information resource base to serve multiple activities across the transportation asset life cycle - long-range planning, corridor studies, safety studies, environmental assessments, multi-year capital programming, project development, preventive maintenance and system operations.
While asset management is closely associated with planning and programming activities, asset management best practices are also integral to design, construction, routine and preventive maintenance and operations activities. For example:
Application of life-cycle cost analysis in the facility design process;
Analysis of alternative construction materials and methods;
Tradeoffs across different maintenance activities based on level of service and extended facility life provided to customers;
Developing an appropriate mix of operations expenditures on technology upgrades, hardware/infrastructure maintenance and replacement, and skilled personnel;
Evaluation of delivery options (e.g., design-build, use of private contractors for maintenance and operations, inter-agency agreements, etc.).
1.6 Key Opportunities
Despite the support for taking an asset management approach, many agencies face very real organizational, institutional, and technical challenges to making further progress in asset management. Each one of these challenges represents a potential opportunity for FHWA to work with its partners to encourage broader implementation of asset management principles. For example:
Top management needs to set an organization-wide direction and framework for decision-making and to ensure that all parts of the organization are working together in a coordinated fashion. Maintaining continuity in leadership direction and understanding of key asset management principles can be particularly challenging with frequent turnover in agency executives;
Clear roles for each organizational unit must be established to solve common problems or meet common objectives. Differences in perspectives and approaches, lack of established procedures, or turf battles must be reconciled;
Established resource allocation methods, often constrained by externally imposed restrictions, historical allocations or formulas, or delicate and difficult political negotiations may restrict the range of options and tradeoffs that can be considered;
Staff resource constraints together with a constant "fire-fighting" mode of operation also may restrict the amount of time and effort that can be spent on analyzing options;
Developing a comprehensive set of reliable methods, data and tools to evaluate performance tradeoffs among the full set of investment options will take a sustained, multi-year effort;
Establishing a causal link between an investment or action and a performance indicator of interest, due to the presence of external factors influencing performance (e.g., gas prices, vehicle fleet changes, growth patterns, etc.) may require additional research in some cases;
Coordination among multiple agencies to achieve established objectives in areas such as operations and safety adds complexity to the decision-making process and program implementation efforts; and
External and internal agency culture based on "bottom-up" decision-making, with a focus on specific projects rather than on broader system performance and outcomes.
While it is relatively straightforward to implement asset management within a well-defined area of the agency (a pavement management unit, for example), the issues identified above illustrate why it is much more challenging to implement it more fully within an agency, or across multiple agencies.
However, the need to allocate scarce resources as effectively as possible and demonstrate results and performance to the customers of the transportation system provides strong motivation and support for overcoming these challenges. A comprehensive, performance-based approach to transportation investment decisions will be essential to meeting the increasingly complex set of transportation needs of the 21st century.
2.0 Right-of-Way and Transportation Asset Management
This section looks at the relationship between the right-of-way function and asset management. It is written from the perspective of an operating agency (e.g., a state DOT). Management of right-of-way is important for several reasons within the context of asset management:
In an agency with a substantial highway network, such as a state DOT, the value of right-of-way holdings can easily amount to hundreds of millions, if not billions, of dollars at fair market value of the real estate. The highway network that is under the jurisdiction of a DOT can be a state government's most valuable single asset, due in large part to the real value of the right-of-way.
Right-of-way management is itself a major function. Most agencies regard right-of-way acquisition as a significant phase of project development, along with preliminary engineering and construction. Once needed parcels are acquired, agencies assume the responsibility to manage the property, whether it is developed relatively soon as part of a highway project, or it is placed in reserve for future network expansion.
The availability of right-of-way can enable future projects to take place; conversely, the lack of sufficient right-of-way or the prohibitively high cost of acquiring needed land can constrain further system expansion. The effectiveness of right-of-way management in anticipating and acting upon future needs can therefore directly influence the asset management options that agencies have in meeting future transportation demands.
2.1 Overview of Right-of-Way Activities
An agency's right-of-way activities within an asset management framework include the following:
Conventional real property management, responsibility for which is typically assigned to a headquarters office unit, including:

Acquisition of land for road improvements, including appraisal, title identification, negotiation, takings, and relocation assistance;
Right-of-way plan development and maintenance;
Property management, including sale or lease of property, negotiation of joint use agreements, and clearing properties for new construction;
Permitting and leasing for non-highway uses of right-of way, including utility and telecommunications construction where allowable;
Joint development agreements; and
Access management, including regulations, negotiation and permitting for access to public roadways.

Strategic actions include advance acquisition of property, maintaining continuity among the parcels needed for future transportation system expansion, and access management to maintain intended design standards throughout a corridor. These actions more broadly influence the asset management options and decisions for investment that an agency will have in the future.
An asset-management perspective can help to frame the discussion of issues that DOTs and other transportation agencies face in their right-of-way function. For example:
The availability and cost of real property can influence an agency's future options on the types of transportation solutions that will be available to meet customer demands for travel.
Mechanisms to fund various right-of-way strategies, such as advance acquisition of real property, need to be evaluated. In so doing, agencies must balance short-term and long-term commitments to right-of-way versus other transportation investment needs. Undertaking near-term investments (as for advance right-of-way acquisition) to preserve long-term options (i.e., having land for future system expansion) may be financially as well as politically difficult.
The costs to purchase real property and relocate residents and businesses are an important component of project and program costs; procedures and data to estimate these costs accurately and manage them effectively are critical to program asset management.
Integration of right-of-way functions earlier in the project development cycle are necessary to help identify problems and evaluate options for solution more efficiently and enable better management of project cost and schedule.
Sections 2.2 through 2.4 explore these and other issues and provide suggestions on how the asset-management concepts in Section 1.0 can be applied to improving information flow and decision-making in operating agencies such as state DOTs.
2.2 Relationship to Transportation Investment Areas
Right-of-way historically has been associated with capacity expansion projects and major improvements that require additional land for travel lanes, ramps, interchanges, and structures. It is in this context that the conventional property management activities discussed earlier are most often applied. While the real-estate implications of preservation, maintenance, and operations are typically more limited, they nonetheless must still be considered. The broader perspective encouraged by asset management provides a framework for this more systemwide view of the right-of-way function across preservation, operations, and capacity expansion, as explained in the sections below.
Preservation
Preservation of the right-of-way includes acquisition and retention of adequate real property to facilitate safe and effective highway and roadside maintenance and upkeep, to assure safe and attractive surroundings for transportation facilities, and to protect the environment within the highway facility. This includes acting to keep the right-of-way free from encroachments. Routine maintenance activities such as drainage repairs and upgrades may result in the need for property rights in addition to those acquired for the original construction of the roadway. Adequate control of access to the highway contributes to safety as well as to the preservation and management of roadway capacity. The need to preserve and protect the public investment in the right-of-way dictates careful management of the sale or lease of property, including careful valuation of the property rights before disposal.
Operations
While the right-of-way function typically is not involved in system operations, traffic operations decisions often may have right-of-way implications, and there may be right-of-way-based approaches to minimize costs and adverse impacts. One operational strategy in which right-of-way can play an important role is in access management. In preserving the operational "character" of existing facilities and corridors, access management helps maintain traffic flow and safety on the existing highway system while accommodating appropriate new development. Situations where the right-of-way unit can make contributions that benefit facility operations include the following:
Influencing land use and the type and degree of development adjacent to the right-of-way is critical to the success of access management. Knowledge of the character, value, and developmental potential of the property abutting and in the proximity of the right-of-way can inform access management strategies, and an agency's right-of-way unit can assist in providing and interpreting this information.[3]
New access that would be needed to support an economic development initiative would typically involve negotiations with the developer on matters such as project funding and contributions of property needed for interchanges, access ramps, etc. The right-of-way unit would likely be directly involved in discussions of property transactions, including valuation of joint-use rights, transfers, or swaps as part of such a public-private arrangement.
Potential impacts of highway operations on abutters - and to what degree they may be compensable -- need to be understood and monitored by the state DOT. Mitigation measures may need to be undertaken, such as installation of noise walls, at least to avoid political opposition even if financial compensation is not warranted.[4]
Where such installations are allowed, the permitting process for the construction or maintenance of utilities and telecommunications lines within the right-of-way may require traffic control plans, which must be evaluated by the right-of-way unit in coordination with traffic operations and safety personnel. For telecommunications installations in Interstate highways, there often is a need to determine the value of the installation rights to support the compensation provisions of the telecommunications use and occupancy agreement.
Where opportunities exist and where it is compatible with highway integrity and safety, agencies may pursue revenue maximization strategies involving right-of-way through joint development or leasing of existing highway rights-of-way, and disposal of unneeded parcels. An agency must follow appraisal and valuation guidelines to establish a fair price in each of these situations.
Traffic control and other operations measures may have impacts on abutting properties. Identifying such impacts and determining whether the impacts are compensable under applicable state and federal laws and regulations can be an important right-of-way function.
Capacity Expansion
The right-of-way acquisition process is integral to capacity expansion projects.
The availability and cost of parcels needed for new transportation facilities is a key driver of project cost and scheduling, and can strongly affect the feasibility of project alternatives considered by an agency. In highly developed urban environments, high cost of right-of-way can be a constraint to transportation options available to the agency.
The timing and impact of land purchases present financial, program management, and political issues. Advance acquisition may enable land purchases of contiguous parcels at advantageous cost, and contribute to effective corridor preservation strategies that reserve land for future system expansion. They may also be perceived, however, to "lock in" decisions on the recommended project and corridor selection before feasibility studies, environmental reviews, and the agency's priority programming procedures have been completed.
Expansion of transportation system capacity can have considerable community and economic impacts that are related to the value and use of real property. Positive impacts include the generation or expansion of economic activity due to improved accessibility and reduction in travel time and cost, and resulting increases in land values. Potential negative values include reduction in neighborhood cohesion and quality of life, adverse environmental impacts (e.g., increased noise, reduced visual quality), and resulting declines in land values. Interactions between the proposed transportation project and adjoining land use need to be accounted for, and often entail discussions with other jurisdictions. Joint development projects, which involve the transportation agency and a private sector entity, may involve zoning changes that likewise require communication with local jurisdictions. Impacts on residents, businesses, other governmental jurisdictions, and their properties ideally are dealt with throughout the project development cycle, but particularly beginning with project planning and public outreach regarding project alternatives and their potential consequences.
With respect to the previous point, there is increasing public attention to "secondary impacts" of highway projects: i.e., impacts that do not result in taking of property, but that are perceived to affect its value and quality. Secondary impacts in this context include, for example, noise, loss of access, loss of parking, diversion of traffic, odors and emissions, loss of business profits or goodwill, losses during construction, loss of views, and loss of visibility. A study performed for the FHWA notes that state courts have generally found that secondary impacts are not compensable. According to this study, actions to forestall claims on secondary impacts that a DOT could employ include better dissemination of information about a project, research studies to assess and quantify these impacts, use of contracting incentives to speed project completion and reduce construction-related claims, use of visuals that show "before" and "after" conditions, and informational meetings and videos.[5]
2.3 Right-of-Way Considerations in the Transportation Facility Life Cycle
Given the close association of right-of-way with major capital projects affecting highway facilities, considerations of right-of-way and asset management can occur throughout the facility life-cycle as described below.
Long-Range Planning
Long-range planning is the logical stage at which to evaluate strategic options and tradeoffs among possible investments. Right-of-way considerations need to enter these deliberations in several ways:
Projections of future growth and demographic shifts underlie the forecasts of changing demand for transportation services, and are an important component of long-range planning and of corridor studies. The links between these economic and social changes and land use values identify not only the locations where impacts of growth may be greatest, but also the potential new corridors in which right-of-way may need to be acquired for future system expansion.
Corridor preservation strategies need to anticipate where areas of future growth will affect demand for highway access on existing facilities. Right-of-way information can provide input for determining the best locations for future highway access to serve this growth.
Joint development opportunities that are identified at the planning stage can affect right-of-way requirements in several ways: e.g., the width of right-of-way that will be needed to accommodate utility placement or joint transportation development (such as highway and transit) along the length of a corridor; zoning requirements and adjacent land use at specific locations where joint development is proposed; and the dimensions and physical characteristics of right-of-way that may be needed to support development projects. These considerations may influence the locations of proposed transportation corridors and the costs of right-of-way acquisition (and thus total estimated project cost).
By establishing a blueprint for future transportation development, long-range planning can guide strategic actions in right-of-way acquisition and disposal. The right-of-way unit can analyze proposed corridors to determine whether existing right-of-way holdings are sufficient to allow future construction to move ahead; gaps in existing holdings that require additional parcels to be acquired for continuity; proposed corridors for which few or no parcels are now held, and where advance acquisition may be a candidate; and parcels that are no longer needed.
Project Development
Project development advances the transportation investment strategies outlined in the long-range plan to consider project options in more detail. Two major analyses that may be conducted at this stage affect right-of-way directly.
An alternatives analysis considers the relative costs and benefits of different project alignments and potential options in highway design within these alignments. Differences in respective right-of-way costs, including relocation requirements for residences and businesses, mitigation measures, and potential economic and community impacts, are key components of this analysis. Further refinements in alignment or design characteristics may be considered based on preliminary results. All of these options and refinements influence right-of-way requirements for the project, as well as associated costs and impacts to adjacent parcels.
Environmental reviews consider the impacts of project alternatives on the social and economic conditions in the host community, air and water quality, noise, protection of endangered species and historical sites, and species habitats. Potential mitigation actions may entail the need for further right-of-way investments: e.g., to compensate for wetlands that have been eliminated by the project, to acquire additional right-of-way clearance to protect sensitive environmental areas, to replace lost social or cultural resources in a community, or to acquire additional right-of-way to maintain contiguous animal roaming ranges or habitat areas.
Project Programming/Resource Allocation
Agencies have different approaches to capital project programming and resource allocation. These approaches vary not only as a function of agency policies and priorities, but also in the degree of formality with which projects are defined and described. Differences also occur in the manner by which candidate projects are managed to control "scope creep" and associated increases in cost and schedule. From an asset management perspective, projects ideally are advanced based on the strategy recommended in the long-range plan and the results of alternatives analyses and environmental reviews. Projects are nominated - i.e., formally proposed by a project sponsor -- with a description of their costs, benefits, and other impacts. This information, together with corresponding information developed for other project candidates, is used to rank or prioritize projects for funding. The resource allocation process distributes the available funding among programs and projects that have been prioritized as the best use of the available investment dollars.
Many agencies organize project implementation within at least three distinct phases: preliminary engineering, right-of-way acquisition, and actual construction. These phases may either be funded together or separately. Funding individual phases separately is typically used to get projects underway when the allocation is not sufficient to fund the entire project all at once, or where the lead time prior to construction is likely to be long (e.g., for environmental reviews). Preliminary engineering and the acquisition of right-of-way (including relocation of residents and businesses, and any mitigation measures required) are likely to be the first phases funded in these cases because of the time needed to complete these activities.
It is important that right-of-way costs be estimated as accurately as possible in project nomination to avoid unexpected, significant increases in project financial requirements. Right-of-way costs that turn out to be substantially higher than estimates will reduce the funding available for other project phases (or for other projects). Periodic updates of right-of-way estimates throughout the planning and project development process are useful to identify potential changes in project costs as early as possible. Estimating right-of-way costs is particularly challenging because projects often occur in an atmosphere of rapidly changing property values, and the costs of relocation often are difficult to quantify accurately without substantial detailed information about the residents and businesses to be displaced. The field of right-of-way cost estimating still is evolving, with an emphasis on finding ways to achieve more accurate cost estimates early in the planning process. Today, estimates are developed primarily by using the experience gained with projects of similar nature and location.
Capital Project Delivery
With certain limited exceptions, right-of-way purchases must be complete, and any displaced persons relocated, before project construction actually gets underway. Right-of-way purchase and relocation assistance should be as carefully planned and scheduled as any other part of a project to allow sufficient time for completion before construction, and still occur within the time frame of a well-defined project
Prior to obtaining final environmental approval, the state DOT may request FHWA agreement to provide reimbursement for advanced acquisition of a particular parcel, or limited number of parcels, to prevent imminent development and increased costs (protective buying), or to alleviate hardship to a property owner or owners on the preferred location (hardship acquisition). The use of these early acquisition techniques can be very effective if the qualifying conditions are met.
For protective buying, the state DOT must clearly demonstrate that development of the property is imminent and such development would limit future transportation choices. A significant increase in cost may be considered as an element justifying a protective purchase.
Hardship acquisitions are based on a finding that there is a hardship for health, safety or financial reasons, and that remaining in the property poses an undue hardship on the property owner compared to others. There also must be evidence that the property owner, because of the project, is unable to sell the property at fair market value, within a time period that is typical for properties not affected by the impending project.
More than 25 states are using innovative forms of project delivery, with design-build being a key example. Design-build entails a single procurement for both design and construction of a project by a contractor. Best-practice procedures have been developed by the FHWA to incorporate right-of-way activities within design-build contracts.[6]
Operations & Maintenance
Once projects are built, agencies continue to have responsibilities in operating the facility and maintaining the right-of-way for the safety, convenience, and comfort of motorists and the public living or working near the highway. Several strategies that have already been discussed are conducted in this phase:
Maintenance of the integrity of the highway right-of-way to preserve its utility, continue protecting the environment, and remove hazards;
Use of access management techniques to maintain traffic flow and safe operations, and to preserve intended design standards;
Use of access management and joint use agreements to provide operations equipment infrastructure (signals, signage); and
Continuing real property management to protect safety and reserve necessary parcels for future transportation needs. Real property management also extends to revenue generation where joint development is permitted and appropriate.
One issue that is increasing in importance is the potential commercialization of the right-of-way, a growing interest in broader, non-transportation uses within the right-of-way limits. While corporate logos and acknowledgement signs are permitted within the right-of-way as the result of public-private partnerships for maintaining roads and roadsides, the proliferation of such signs may have safety implications and affect the quality of the roadway as perceived by motorists. These current uses, as well as proposals for the expanding permissible advertising activities outside the right-of-way and allowing advertising within the right-of-way, raise issues that require further investigation and policy development.
2.4 Application of Asset Management Principles to Right-of-Way
The following sections describe examples of how asset management can influence right-of-way management.
Policy-Driven
Specific goals and objectives for the right-of-way function are supportive of transportation goals and objectives and broader state government policies regarding, for example, economic development and environmental protection. Examples of how these policies may influence right-of-way include:
Planning for and providing needed right-of-way for corridor development and project construction in a timely and cost-effective fashion.
Minimizing costs and risks of right-of-way acquisition through an agreed-upon program of strategic and tactical purchases.
Improving the integration of various functions, including right-of-way, to streamline the project planning and development processes.
Ensuring full compensation is paid for all property acquired, and satisfaction of all relocation assistance requirements, in compliance with the Uniform Act[7] and applicable state law.
Managing property holdings cost-effectively and with recognition of safety and environmental protection (by removing hazardous materials, protecting the natural environment, and preventing encroachments into the right-of-way to ensure public safety).
Managing access to highway facilities to maintain mobility and safety.
Ensuring that the disposal of property interests, whether under air space agreements or as transfers of excess properties no longer needed for transportation purposes, generates appropriate revenue.
Encouraging economic development and, where appropriate, working with public and private partners to build needed facilities.
Enhancing the efficiency and consistency of right-of-way activities across state programs.
While agencies must assess the implications of these policies and pursue right-of-way strategies that are consistent with and support these objectives, it must also be recognized that federal law and regulations[8] specify requirements for real property acquisition, relocation assistance for displaced persons and businesses, and property management, which must be met if federal funds are to participate in any part of the project.
Performance-Based
Performance monitoring and tracking are central to an asset management approach, regardless of the assets or functions involved. Measuring right of way program performance presents a challenge because requirements may appear to be contradictory. Right-of-way supports and is committed to rapid and efficient project delivery. Yet dealing with people and businesses, acquiring their real property and relocating them, requires services and other actions that are mandated by law and regulation. These activities often are time-consuming, and some have mandatory minimum notice periods. In addition, many of right-of-way's functions are heavily dependent upon the actions taken by other disciplines such as design and environment. For these reasons, it is difficult to identify objective measures for right of way activities. However, data can be gathered and used to identify trends that can provide information about the overall effectiveness of a right-of-way program. The following information, gathered over several years, may be useful to identify trends within a right-of-way program:
Percentage of parcels acquired through negotiation (vs. eminent domain);
Length of property acquisition process, and the lead time required to close;
Percentage of right-of-way costs spent on litigation,
Percentage of construction costs associated with right-of-way acquisition, including environmental mitigation;
Average time needed to relocate residents
Average time needed to relocate businesses
Average payments: residential housing supplemental payments and moving costs, real property per parcel costs, administrative costs (absolute and/or per parcel)
In addition, internal and external customer satisfaction surveys can be used to measure success in the right of way program.
Analysis of Options and Tradeoffs
Options and tradeoffs associated with locations of transportation corridors are evaluated as part of the overall transportation planning process, alternatives analysis, and project environmental reviews. Right-of-way functions can be integrated with other functions earlier in the project-development process to ensure that the potential costs of real property acquisition and of relocation of occupants are properly taken into account in the evaluation of alternatives.
Further options that directly affect the right-of-way function occur when implementing the real property acquisition and management required by the current and future transportation network. Agencies have choices in the following areas:
Timing of property acquisition and disposal;
Access management provisions (capacity versus operations/management);
Corridor management and preservation techniques;
Property management practices (e.g., maintenance and upkeep); and
Property management revenue (e.g., joint development and shared-use agreements).
Decisions Based on Quality Information
Right-of-way holdings in a highway network are extensive and can be held for many years. Existing regulations[9] require that agencies keep records on property inventories and acquisitions, authorized uses of airspace, and other leases or agreements. However, acquisition of parcels prior to this regulation may not be documented as completely. For example, the recent financial reporting requirement for highway system assets by the Governmental Accounting Standards Board (GASB Statement 34) has highlighted gaps in the real property records of transportation agencies.
Agencies can improve on these shortcomings with the help of advances in information technology, such as enterprise databases and geographic information systems. These tools can support a number of asset management functions in addition to the GASB 34 reporting and the real property management functions of the right-of-way unit itself: e.g., access management, environmental stewardship, economic development, land use patterns, and forecasting of future development. Examples of the types of information that would be needed at a minimum include:
Complete, accurate, current information on property holdings;
Real property and relocation assistance costs by category of parcel, project type, and location;
Time requirements for different project phases by project type and location;
Environmental characteristics of parcels, and potential or actual mitigation needed; and
Project experience: success and risk factors actually encountered, and recommendations for addressing similar situations in the future.
Monitoring to Provide Clear Accountability and Feedback
The performance measures and information technology tools described above provide a basis for establishing clear management accountability for performance and feedback to improve future management and operations:
"Lessons learned" are documented and used to establish best practice;
Data on right-of-way costs are used to improve cost estimation methods; and
Data on the time required to obtain parcels and relocate displaced persons and businesses are used to improve scheduling accuracy and statistics on project readiness.
Monitoring and feedback are particularly important when revising business processes and evaluating results. For example, if right-of-way activities are begun early in the project development cycle and integrated with other activities, monitoring and evaluation will document the effectiveness of this approach and its impacts on schedule and cost for future reference.
3.0 FHWA Office of Real Estate Services - Current and Future Activities Related to Asset Management
This section describes current activities of the FHWA Office of Real Estate Services (ORES) and the real estate staff in FHWA division offices that relate to asset management. It then identifies additional opportunities for implementing asset-management principles and techniques in the future.
3.1 Current and Planned Activities
Policy and Regulatory
ORES operates under several legal authorities in providing its services:
Title 23, U.S.C.[10],: Highways, including the Highway Beautification Act;
Title 42 U.S.C., Chapter 61: Uniform Relocation Assistance and Real Property Acquisition Policies for Federal and Federally Assisted Programs (the Uniform Act);
Title 49 U.S.C.: Transportation;
23 CFR Part 710, Right-of-Way and Real Estate;
49 CFR Part 24, regulations deriving from the Uniform Act.
ORES, representing FHWA and the U.S. DOT, is the lead agency for administering the Uniform Act through rule-making. These rules establish the real property acquisition and relocation assistance requirements that projects must follow to be eligible for federal funds. Seventeen other federal agencies currently have programs subject to the Uniform Act.
ORES develops, implements, and evaluates policies for acquisition, management, and disposal of real estate in connection with FHWA programs and provisions of 23 CFR, including the Highway Beautification Act. It issues guidelines for real property management, including air rights, leasing, disposal, and early acquisition. Updating these policies, regulations, and guidelines to reflect changes in statute is an ongoing activity within ORES. ORES and the FHWA division offices also administer the Highway Beautification program for controlling outdoor advertising along highways.
Technical Assistance and Information Dissemination
ORES provides assistance through the entire cycle of project delivery, including project planning, property appraisal and acquisition, relocation of affected residents and businesses, and post-project-property management. ORES recommends that operating agencies use a property inventory and maintenance system. The office issues a number of publications and guidebooks to assist state and local agencies in conducting and managing the right-of-way process. Guidelines are also given for leasing (interim and post-closeout) and property disposal. ORES staff participate in the AASHTO Utilities and Right-of-Way Subcommittee and the International Right-of-Way Association, and has formal partnering agreements with other federal agencies including FAA, FTA, and the Corps of Engineers. ORES historically has delivered training in relevant right-of-way functions and procedures, and is now investigating new, less staff-intensive ways to deliver this training: e.g., through partnering with other agencies (such as the Corps of Engineers) and through distance learning courses offered through the National Highway Institute (NHI).
In general, the FHWA provides policy guidance and technical assistance to state DOT partners and other federal agencies in implementing the Uniform Act and 49 CFR requirements, but does not typically get involved in day-to-day project activities. Differences in state laws and agency practices require the development of adaptable analytic tools, and right-of-way issues change rapidly, particularly in fast growing areas of the country.
Research & Technology
ORES has sponsored or is now planning research in a number of subjects that contribute to better real property management. Several examples follow.
ORES has sponsored research and other activities that promote better program performance:

History and overview of the federal Outdoor Advertising Control Program;
Assessment of the effects of public project acquisitions on adjacent business;
Scans of innovative U.S. practices;
European right-of-way and utilities best practices scan;
A review of best-practice management approaches and systems used by right-of-way divisions in five surveyed states (Florida, Louisiana, Oregon, Pennsylvania, and Wisconsin).

Evaluation of state condemnation processes;
Report on design/build contracts and right-of-way activities;
Synthesis report on integrating and streamlining transportation development and decision making;
A relocation retrospective study;
Corridor preservation case studies;

ORES currently is funding research in the following topics, emphasizing greater use of technology:

Web-based annual acquisition and relocation statistics;
GIS implementation in right-of-way programs, including GIS and data management applications for local agencies;
Automated driveway access management with GIS 3-D imagery;
Innovative (GIS) corridor assessment and land acquisition management tools.
Coordination
ORES is located within the Office of Planning, Environment, and Realty. It coordinates internally with sister Offices in Planning, Environment, and Realty, as well as with other major Offices such as Operations, and Infrastructure. It works through FHWA division offices to assist state DOTs in right-of-way matters throughout the project life cycle, including planning and NEPA review stages. As lead agency for implementing the Uniform Act and 49 CFR, ORES is routinely engaged in responding to operational questions from the 17 other federal agencies that operate under the Uniform Act. ORES also coordinates with AASHTO and the International Right-of-Way Association.
The FHWA does not acquire right-of-way for Federal-aid highway projects. Instead, the FHWA makes Federal-aid funds available to the State transportation departments, mainly by statutory formula. State transportation officials work with local governments to determine which projects are funded. The States are responsible for acquisition of right-of-way, although local governments acquire the right-of-way in some cases. Approximately $1.5 billion is spent annually on acquisition and relocation activities for Federal-aid highway projects. The FHWA works with its partners during the acquisition process and, through them, assists other customers, such as nonprofit organizations, property owners and businesses, and individuals affected by transportation projects.
3.2 Potential Future Activities
The Office of Real Estate Services can build on its current activities and interactions with other FHWA offices to further strengthen the relationship between right-of-way management and asset management. Some of these activities include:
Encouraging agencies to implement comprehensive right-of-way inventory databases and analytic techniques. FHWA currently encourages the use of property inventories, but there may be a need to develop or license versions to local agencies. A database could record all property and improvements for a particular project, tracking each required parcel and its associated land, structures, and equipment. Accounting, leasing, maintenance, and disposal functions could also be integrated. Performance measures and analytic techniques can be included to evaluate the most effective options in the pre-project and post-project phases.
Developing flexible tools that can be tailored by each agency to evaluate the impact of right-of-way decisions. Tools are needed for both decisions within the right-of-way program itself, and for integrating right-of-way considerations with the long-range planning process. Within right-of-way, an analytic tool could help state and local agencies determine how much property is needed for rights-of-way, how much to dispose, and how far in advance to begin the acquisition process. A second tool could better integrate right-of-way in long-range planning by helping to anticipate long-range property needs, and assisting planners in evaluating the impacts of transportation decisions on surrounding communities.
Working with other FHWA offices, and perhaps with a panel of states and AASHTO in a laboratory-state or lead-state arrangement, to achieve advances in a targeted objective: e.g., environmental management of right-of-way lands. This effort could extend ongoing work by NCHRP (e.g., Project 25-25), and focus on developing bodies of information that could be used throughout the facility life-cycle: i.e., from long-range planning through operations and maintenance and, if needed, disposal.
Supporting greater outreach and education, emphasizing pre-project and post-project right-of-way asset management opportunities. Instead of a static cost associated with new capacity projects, property can be actively managed to minimize acquisition cost, reduce community disruption, and generate revenue through shared use or leasing in appropriate situations. To communicate these potential benefits, FHWA could develop best practice case studies at both the project and state levels, while recognizing that there are differences in right-of-way regulations between states.
Cost estimation for right-of-way is an emerging field, and additional work is needed to develop guidelines and procedures that could yield more accurate costs at the planning stage. Compilations of case studies, identifying factors that contribute to cost variability and the magnitude of divergences from estimates, offer one approach. A second is to work with agencies to develop more analytical procedures in producing estimates.
The growing issue of commercialization of the right-of-way has been discussed in Section 2.3. Further work is needed to review the issue and to formulate consistent policies and approaches to commercialization Discussions on this topic are underway among the states and within AASHTO.
ORES has identified future research needs in the following subjects:

FHWA stewardship practices;
Advance acquisition of right-of-way;
Right-of-way procedures that support innovative contracting practices;
Corridor preservation using tiered EISs;
Right-of-way performance measures;
Practices and issues related to commercial uses within rights-of-way;
Division interagency agreements and practices for interagency activities;
Right-of-way cost estimating;
Operational and safety effects of outdoor advertising on highway users;
Use of GIS in right-of-way and development of the business case for adopting GIS in right-of-way;
Automated systems for residential and business valuation and for calculating relocation benefits.
---
[1] Transportation Asset Management Guide, prepared for the National Cooperative Highway Research Program (NCHRP) Project 20-24(11) by Cambridge Systematics, Inc. with Parsons Brinckerhoff Quade & Douglas, Inc., Roy Jorgensen Associates,Inc. and Paul D. Thompson, November 2002, AASHTO Publication RP-TAMG-1.
[2] The FHWA plays a key role in standardizing the content and format of data that are mandated by federal law: e.g., the National Bridge Inventory (NBI) data that are reported by state DOTs.
[3] TRB has recently published an Access Management Manual, an initiative promoted by the TRB Committee on Access Management and funded by the FHWA.
[4] Refer to the related discussion in the following section on "Capacity Expansion."
[5] FHWA Office of Real Estate Services, "An Assessment of the Effects of Public Project Acquisitions on Adjacent Business," summary of a study performed for FHWA by Economics Research Associates, October 1996; https://www.fhwa.dot.gov/realestate/adjhwy.htm
[6] FHWA Office of Real Estate Services, "Design / Build Contracts and Right-of-Way Activities," https://www.fhwa.dot.gov/realestate/dbcrwa.htm
[7] Refer to Section 3.0 for more information on this Act.
[8] The Uniform Act and regulations in 49 CFR Part 24 and 23 CFR Part 710 are pertinent. Refer to Section 3 for additional discussion of statutory requirements governing highway right-of-way.
[9] These regulations are in Chapter 23 of the Code of Federal Regulations, and are issued by the FHWA. Refer to Section 3 of this memo for additional information on FHWA's regulatory responsibilities and activities.
[10] U.S.C. stands for United States Code; CFR stands for Code of Federal Regulations.