1.0 INTRODUCTION
The Federal Highway Administration's (FHWA) Office of Highway Policy Information has been conducting research on both passenger and freight origin-destination data gathering and estimation methods and approaches. This research includes: (1) exploring new long-distance passenger travel data gathering methods; (2) a national transportation modeling framework; and (3) multimode passenger travel origin-destination. The Office of Highway Policy Information is initiating additional new research on another key component of long-distance passenger travel: passenger travel mode choice modeling.
According to the 2001 National Household Travel Survey (NHTS), Americans take 2.6 billion long-distance trips (defined in the NHTS as 50 miles or more one-way) per year. This equates to 7.2 million trips per day. As shown in Figure 1-1, about 90 percent of long-distance trips are taken by personal vehicle while ten percent use public/commercial transportation modes. Over seven percent of long-distance trips are taken by air while two percent are by bus. Train travel represents almost one percent of long-distance trips (BTS, 2006). The Office of Highway Policy Information is interested in learning more about what factors influence the choice of travel mode for long-distance trips. Thus, the objective of this new research component is to develop quantitative mathematical methods to analyze how long-distance passenger travelers make their mode choices. Factors including social, economic, demographic, trip length, trip purpose, available infrastructure facilities such as train, airport, and highways, indicators of travel costs, and available mode choices (air, train, bus, and personal passenger vehicles) were evaluated.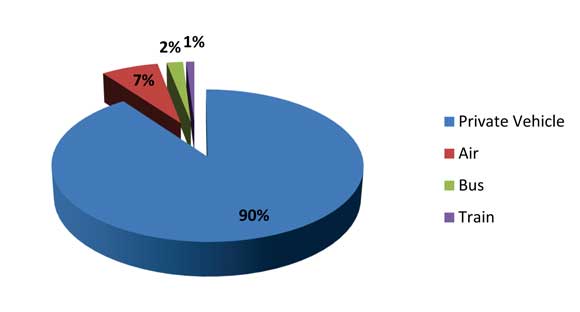 Figure 1-1. Percent of Long-Distance Passenger Trips by Mode Share Choice According to 2001 NHTS.
The research began with a comprehensive literature and practice review conducted to assess current knowledge on long distance multimode passenger travel modeling. Details of this review are provided in Section 2.0. Section 3.0 contains a detailed discussion of the mathematical models and inputs to the models used to estimate mode choice for long-distance passenger travel. Section 3.0 also contains the model coefficients and a discussion of the results. This is followed by validation of the mathematical models in Section 4.0. Finally some overall conclusions are presented in Section 5.0 followed by a bibliography in Section 6.0.