HPMS Reassessment 2010+
Final Report
Prepared by:
Office of Highway Policy Information
Federal Highway Administration
4.0 Data Changes
This section describes and summarizes the changes that were originally developed through the Issue papers and later released in the draft HPMS Reassessment Recommendations report in January 2007.
Beginning in the spring of 2006, issue papers were developed for each of the major subject areas of the Reassessment. The purpose of the issue papers was to convey to the HPMS community the data changes being considered in the Reassessment, thus providing the data providers and users with firm recommendations on which they could provide FHWA comments. The 10 Issue paper areas were grouped into three categories as follows:
Structure of HPMS (one Issue paper for each):

— New Data Model (formerly Linear Referencing and Data Integration);
— Sampling; and
— Boundaries and Functional Classification.

Data Items (one Issue paper for each):

— Safety;
— Freight;
— Pavements;
— Interchanges; and
— Capacity.

Data Quality and Process Improvement (one Issue paper for each):

— Data Quality; and
— Process Improvement.
For clarification, collecting year refers to the year in which the data are collected, where reporting year refers to the year in which these data are reported to FHWA. HPMS data are expected to be collected over a one-calendar-year period and be reported to FHWA by the following June 15th. For example, data collected by a state in calendar year 2006 is reported to FHWA on June 15, 2007. The timing for HPMS data changes is very important and there are four basic levels of changes being made in the Reassessment:
Early Implementation — These data changes are mandatory in the 2008 Reporting Year and optional for the 2007 Reporting Year. The only data items in this category are motorcycle travel data.
Immediate Implementation - This is the last possible year for reporting new and changed data not listed in one of the other three levels. States that have collected these data items in 2008 may report them in the 2009 Reporting Year. All States will be required to collect these data in 2009 for the 2010 Reporting Year. To the extent possible, similar data items should be dropped and added in the same year. For example, pavement structural number should not be deleted until the new pavement data items are added. Pavement and traffic metadata will be required in 2010.
Phased Implementation — Certain sample pavement condition data are required to be collected on a two-year cycle. Therefore, States will be expect to report data for half of their sample sections in Reporting Year 2010, and the remaining half in Reporting Year 2011. This does not apply to pavement condition data that are required to be collected on an annual basis.
Late Implementation — Since most States review and revise their adjusted small urban/urbanized area boundaries and functional class two to three years following the decennial Census, the reporting of the new functional classes (except the OFE in rural which is based on design criteria) and updated adjusted small urban & urbanized boundaries will not be required until Reporting Year 2013. States are encouraged to not wait till after the decennial Census to begin reviewing and revising their functional classes, since these data are no longer dependant on the adjusted boundaries.
There are a number of data recommendations studied in the Reassessment that were ultimately not adopted. Of these recommendations, a number have been identified for future study, and are categorized in this report under each section as "Deferred for Future Research."
Sections 4.1, 4.2, and 4.3 summarize the recommendations for the structure of HPMS, data items, and data quality/process improvement respectively. The results were used to arrive at recommendations regarding level of effort to change and/or add certain items. Section 4.4 summarizes all of the recommendations in a table format.
4.1 Structure of HPMS
This section deals with the changes to the structure of HPMS, which includes the database and methods of submitting HPMS data to FHWA. These changes directly address two of the HPMS goals to evolve HPMS to a data system which:
Builds from the data systems of local, regional, and state governments; and
Is connected with a common geo-referencing system.
The ability to connect HPMS data items with a common geo-referencing system was also identified as an outstanding need in the last Reassessment. An important mission of this Reassessment is to capitalize on changing technology to enhance quality, efficiency, and data integration.
The three main areas being considered in Section 4.1 are a new data model, sampling, and boundaries/functional classification.
4.1.1 New Data Model
The basic concept for a new data model was originally proposed in an Issue paper and further described in the draft report. The primary objectives of the data model are:
Improve data quality;
Enhance analytic capabilities; and
Reduce data reporting burden.
The data model will accomplish these objectives by organizing the HPMS data into program areas, and link them together through a Geographic Information System (GIS) using spatial relationships. The new model treats each data item independently, thus removing all unnecessary data dependencies inherent in the old data model. Each data item could be represented by its own layer with its own rules.
4.1.1.1 Immediate Implementation
The overall structure of HPMS will be organized in catalogs representing different levels of data detail. Summary data are represented in tables within the Summary Catalog, Section specific data is represented in the Sections Catalog. The Shapes Catalog holds the key to linking the data together through polygon and polyline geometric files. The specific data structure and reporting requirements are identified in the HPMS Data Specifications.
Figure 4.1 Conceptual Overview of the New Data Model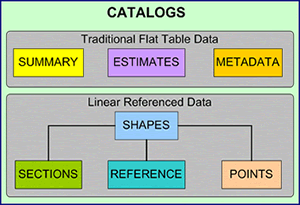 The structure for the HPMS of 2010 goes a long way toward achieving the goal of HPMS being built from the data systems of local, regional, and state governments, and connected with a common geo-referencing system. The Data Model has the following attributes:
The scope of HPMS remains the same. HPMS includes all public road mileage.
The scale of the HPMS also remains the same. There are Universe data items, sample information for a portion of the Universe and area wide summary information for Minor Collector and Local roads. Universe AADT coverage is extended through Minor Arterials and (Major) Collectors to include all Federal-aid eligible roads.
New elements of the structure are:

— GIS-based framework; and
— Multi-dimensioned tables linked to a state-supplied network.

Benefits of the new structure include:

— Expands the coverage of "linkable" HPMS data. HPMS 2010 can more easily link to other Federal highway data files such as the Bridge Inventory system and the Highway safety systems, and can provide data to "routable" Federal transportation networks such as NHPN and FAF.
— Improves state feedback mechanisms.
— The GIS approach may allow a different approach for populating urban/urbanized attributes.
— Information on ramps associated with all grade separated interchanges will be added for all functional systems.
The changes are to:
Implement a New Data Model, a GIS or geospatial database with multiple layers, for implementation for 2010;
A pilot was conducted to develop how this will be implemented:

— Creating multiple tables within the HPMS submittal similar to the current table that states submit; or
— Allowing states to submit their HPMS data as a GIS file or geospatial database with multiple layers; each layer representing a logical grouping of data (pavement, traffic, ITS, etc.); and
— Establish the minimum criteria for the road geometry. Preliminary attributes regarding the network have been proposed and are included below. The FHWA and the Pilot States have worked on refining these attributes in developing the new data model.

» Scope — States can supply either a single or dual carriageway geospatial network.
» Extent — The State supplied geospatial network will need to include all roads that are eligible for Federal-aid. This includes the entire NHS and all roads functionally classified as Interstate through Rural Major Collector and Urban Minor Collector regardless of ownership.
» Intrastate Connectivity — States are encouraged to use an LRS for HPMS reporting that is consistent with the LRS being used for all other Federal data reporting. Through the HPMS Reassessment, FHWA is proposing "one network and one LRS for all Federal data reporting." This theme has been widely embraced by most States and most if not all of the Federal agencies engaged through the Reassessment.
» Maintenance — The proposed data model will use the State supplied geospatial networks, which need to correspond to the HPMS data being submitted that year. To ensure a 100 percent match between the HPMS data and the geospatial network, States are encouraged to submit a new network every year.

— Develop new submittal package to include:

» A geometry file in the form of a shapefile or other acceptable format that has measured and calibrated routes;
» A multi-dimensioned event table using the LRS field as a common identifier to link all data tables; and
» Global Information which would include information that applies to every record (such as Units, Year or Data, Summary Data, etc.).
4.1.2 Sampling
The general recommendations that were evaluated include:
Modifying traffic volume groups to be consistent across rural and urban functional classes;
Expanding upper and lower traffic volume groups; and
Extending universe AADT coverage to all roads eligible for Federal-aid.
It was concluded that the basic standard sampling scheme for HPMS remain unchanged. Benefits of applying the following changes as described include the:
Flexibility to readily calculate a VMT value based on defined air pollutant boundaries (multiple pollutants/boundaries),
Ability to calculate a VMT value for areas split by one or more nonattainment or maintenance area boundaries, and
Elimination of donut samples in nonattainment or maintenance areas.
4.1.2.1 Immediate Implementation
The following changes are for immediate implementation:
Eliminate Donut Area Sample[1] — Present scheme of standard sampling within urbanized areas, small urban areas, and rural by functional system and by volume strata will be retained. However, the requirement for the Donut Area Sample AADT Volume Group Identifier (Item 31) as well as the entire donut sampling procedure will be deleted.
Universe AADT required for all roads eligible for Federal-aid — The elimination of the Donut Area Sample and the need for robust VMT data for geospatial analysis led to the change in AADT (Item 33) reporting. Inclusion of AADT for all Minor Arterials and (Major) Collectors segments will greatly simplify the estimation of VMT for specific geographic areas as well as nonattainment or maintenance areas by pollutant. Please note that AADT reporting has always been required on a universe basis for all Principal Arterials, NHS, STRAHNET, and for sample sections on Minor Arterials, rural Major Collectors, and urban Collectors.
Modify Summary AADT Template - The current Summary Template used for the air quality nonattainment and maintenance areas will be modified to accommodate reporting a combined estimate of DVMT for the lowest systems by area and pollutant; these lowest systems would include any rural Minor Collectors and rural and urban Locals located within the nonattainment or maintenance area.
Drop the Urbanized Area Sampling Technique Code (Item 14).
4.1.2.2 Deferred for Future Research
The following were considered and discussed in the Reassessment webinars and workshops and ultimately deferred. The availability of qualified staff and the reduction in the Reassessment budget ultimately led to the conclusion to defer these for future research. Some of these could easily be implemented, while others should be addressed as part of a future Reassessment.
Alternative Sampling Scheme — The new GIS data model presents the possibility of sampling each data area independently in the future.
NHS Sample — A NHS sampling scheme by state could be implemented using the existing standard samples supplemented with extra standard samples where needed. A separate Item would be retained for the NHS expansion factor such as the standard sample expansion factor. An in-depth analysis is needed to verify the proposed results. NHS Expansion Factors (applicable to the non-Interstate parts) will be developed.
Sample Panel — A recommendation needs to be made regarding how to keep the sample panel representative of the entire urbanized area in cases where large additions are added to an existing urbanized area sample panel. The recommendation needs to address the issue of sub-area sampling within a large urbanized area.
Standard Sample AADT Volume Group Identifier (Item 32) — Common generic AADT Volume Groups. FHWA proposed establishing a single AADT Volume Group stratification that would apply across all geographic area types (i.e., rural, small urban, urbanized, nonattainment, etc.)
National Sample — This option deals primarily with obtaining those data items required only for national level analysis (e.g., HERS, FAF, Highway Cost Allocation etc). There are two scenarios that need to be further studied:

— Collect the sample data items only used for national-level analysis as a national sample for all functional systems; or
— Create a national sample for data on those functional systems currently not covered by the existing sample. Under this scenario, the national sample would compliment the existing sample.

Alternative Sampling Methods — Alternative variable schemes, if viable, could be reviewed and proposed. Levels of precision needed for FHWA purposes need to be visited, since the level of precision directly affects the amount of samples required. If a commitment is made, then criteria would be very helpful in deciding the alternative schemes as well as the appropriate levels of precision to employ.
The suggested AADT volume group strata shown in the table below should be evaluated to determine the impact of various options (i.e., wider volume ranges as the volume increases, use same volume ranges across urban/rural, etc.). AADT volume group strata adjustment should be tested to determine the impact of various options (i.e., wider volume ranges as the volume increases, use same volume ranges across urban/rural, etc.). States were generally in favor of this change, but once again, FHWA was not able to complete an in-depth study of the impact of implementing this change; however, FHWA felt compelled to make the change based on a minimum analysis anyway.
Table 4.1.2 AADT Traffic
Volume Groups and Codes

| Code | AADT Volume Groups |
| --- | --- |
| 1 | Under 500 |
| 2 | 500-1,999 |
| 3 | 2,000-4,999 |
| 4 | 5,000-9,999 |
| 5 | 10,000-19,999 |
| 6 | 20,000-34,999 |
| 7 | 35,000-54,999 |
| 8 | 55,000-84,999 |
| 9 | 85,000-124,999 |
| 10 | 125,000-174,999 |
| 11 | 175,000-249,999 |
| 12 | 250,000 and more |
4.1.3 Boundaries and Functional Classification
The benefits of moving from State adjusted urban/urbanized boundaries to a different boundary (i.e. Census, or MPO) were discussed. The general consensus among the States and the data users was that adjusted urban/urbanized boundaries were preferred. Most often, the reason cited was the fact that adjusted urbanized boundaries are "transportation" oriented, meaning they have been adjusted to capture transportation characteristics not represented in the Census or MPO boundaries. Ultimately no change was made to the urban/urbanized boundaries, but it was agreed that FHWA would need to take a more active role in providing guidance to the States following the next decennial Census.
Eliminating the urban versus rural designation from highway functional classification and collapsing the number of classification codes from the current 12 to 7 will improve the accuracy and consistency of these data. Since the inception of functional class, the coding of these data has had both a rural/urban component and a functional component. Unfortunately, how a road functions is not necessarily related or dependent on it being urban or rural. Removing the rural/urban bifurcation will eliminate the need to update the functional class field whenever a change occurs in an urban or urbanized area boundary, and will hopefully lead to more consistent reporting of highway functional classes across and within States. The revised set of functional classes and associated codes are shown in the table below.
4.1.3.1 Immediate Implementation
Eliminate urban/rural bifurcation — Revise functional classification codes to eliminate separate urban and rural classifications (please note the rural, small urban, and urbanized area designation is kept as a separate item);
Disaggregating of Urban Collectors — Allow for the disaggregating of urban Collectors into Major and Minor Collectors.
Add Field for Pollutant Type — Add additional data item describing type of pollutant to summary form.
Adjusted Urban/Urbanized Boundaries — FHWA will issue instructions on adjusting small urban/urbanized area boundaries to Division Offices and States prior to the next decennial Census.
Table 2.1.3 Functional Classification Codes

| Code | Functional Class Description |
| --- | --- |
| 1 | Interstate |
| 2 | Other Freeways & Expressways |
| 3 | Other Principal Arterial |
| 4 | Minor Arterial |
| 5 | Major Collector |
| 6 | Minor Collector |
| 7 | Local |
4.1.3.2 Deferred for Future Research
Research options for updating the geo-spatial information of the current urban and urbanized areas and air quality boundaries.
4.2 Data Items
The following data items are being modified or added to better meet FHWA business needs. The business needs have been discussed in detail earlier in this report. For background information, review the appropriate Issue papers in Appendix C: for safety, pavements, interchanges, freight and capacity. For a list of items giving data names and structures, the HPMS Reassessment 2010+ Data Specification document can be referenced.
Changes for of each of the main areas are detailed below.
4.2.1 Immediate Implementation
The mandatory Reporting Year for the following data is 2010 unless otherwise indicated in parenthesis.
4.2.1.1 Safety
Motorcycles (2008 Reporting Year)
Beginning in 2008, the reporting of motorcycle travel data for data year 2007 is mandatory. All States are expected to begin reporting motorcycle travel data as a percent of total travel in the area wide summary table.

FHWA realizes that there are currently some concerns about the quality and consistency of these data. The concerns are often centered on the ability of traffic equipment to detect motorcycles, when and where States typically count traffic, and the methods used for factoring short-term counts. FHWA is committed to working with the States to help improve the quality of these data through the dissemination of best practices, revised guidance, training, and modifications to existing equipment, or research into new equipment and technologies.
Coordination of HPMS with other Safety Databases
The Office of Safety and the Office of Highway Policy Information will continue to coordinate regarding HPMS and Minimum Inventory of Required Elements (MIRE) standards. The new data model has been modified for States who wish to provide FHWA with some or all of their MMIRE to do so at the time they submit their HPMS data. These optional data would not be considered HPMS data, and would only receive a cursory review; these data would be passed along to the FHWA Office of Safety.
4.2.1.2 Pavement
IRI data
Collect and Report IRI and IRI Year annually on a universe basis on the NHS. FHWA realizes that some states do not currently collect 100% of the state NHS network on an annual basis and that it may be difficult to procure and implement the resources necessary to meet this requirement by the 2009 data collection year. In these cases, States should develop an implementation plan to document the steps that will be taken to meet the NHS annual data collection requirement. This plan should identify when and how the state will be able to provide annual monitoring of the NHS. The implementation plan should be submitted to the FHWA for review and approval before the beginning of the 2009 data collection year. The collection of IRI data for non-NHS samples will remain on a two-year cycle. IRI Year is a new data item, which represents the year that the IRI data was collected, compared to the year that it is reported.
States are to continue reporting the average of both right and left wheel path quarter-car IRI in HPMS as a Mean Roughness Index (MRI); and
Report IRI data on structures and railroad crossings where IRI is required.
Consistency of pavement data
Beginning in data reporting year 2010, the optional IRI metadata currently being reported will be eliminated and replaced with metadata on the new pavement condition data items (cracking, rutting, and faulting). In 2010, FHWA will begin more strictly enforcing the IRI data requirements as described in the HPMS Field Manual. Compliance with the data requirements will be determined in the FHWA Division Offices' annual assessment and review [2] of each States' HPMS data program. These assessments are to be submitted to the Office of Highway Policy Information (OHPI) no later than November 1st of the data reporting year. For example, a Division's review of their States 2009 HPMS data, submitted to FHWA June 15, 2010, should be received by FHWA no later than November 1, 2010.
The pavement metadata has been published in the HPMS Data Specifications. The HPMS Field Manual will also contain a description of the metadata when it is released later this year.
Additional pavement data items and dropping of less useful ones
The data items listed below are required for all sample sections in a phased approach. In Reporting Year 2010, States are expected to report the additional pavement data items for half of their samples sections. Preferably these sections will be equally distributed across functional systems. States are encouraged to do this by dividing their State in two e.g. by county, district etc and collecting the sample data for all the sections in one half in 2009 and the second half in 2010; Reporting Years 2010 and 2011 respectively.
Drop reporting of Structural Number (SN). Need for this data item is obsolete and redundant based on acquisition of new data items.
Collect additional pavement data items through a mix of required fields, mixed fields, phased-in reporting, and statewide default tables.

— Rutting/Faulting — Add as required sample data items (data to be collected via profilometer at same time as IRI).
— IRI Year — Add for all sections where IRI is required (including structures).
— Cracking — Add percent cracking (regardless of severity) as a sample data item.
— Add Date of Last Overlay and Date of Last Reconstruction — Code where know, leave blank if unknown.
— Thickness of Latest Overlay — Optional sample data field until next post-2010 overlay.
— The following data items are be required for all sample sections (phased in as described above) beginning in Reporting Year 2010. It is realized that many of these data items may not currently be available for individual sections; therefore the reporting of default values will be acceptable until such time as the State has developed a system to populate these data. Default values are acceptable for both on-state and off-state sections, and can be based on typical design defaults (statewide, functional system etc). To facilitate the reporting of these data, FHWA has added tables to the data model that allow states to code these data on a functional class basis.

» Asphalt Bound Thickness;
» Concrete Thickness;
» Base Type;
» Base Thickness;
» Asphalt Mix Binder Type;
» Dowel Bars; and
» Joint Spacing.

— Subgrade AASHTO Soil Type: FHWA would code a default from maps while allowing states to override based on readily available local information.
4.2.1.3 Interchanges & Ramps
Interchanges
FHWA will collect and report the location and type of Interchanges nationwide. States that have a database of Interchanges can optionally submit these data to FHWA
Ramps
States to report ramp location, length, number of lanes, AADT and functional classification data for all grade separated interchanges on all functional systems (2010 Reporting Year)
Ramps, as defined by AASHTO in the publication A Policy on Geometric Design of Highways and Streets " ...includes all types, arrangements, and sizes of turning roadways that connect two or more legs at an interchange." Where a ramp connects two facilities with different functional classifications, the ramp will be coded with the functional classification of the "higher" facility. For example, a ramp that connects an Interstate and a Principal Arterial would be coded as an Interstate ramp.
4.2.1.4 Freight
Truck Volumes as Universe Data on the NHS
Report the actual truck AADTs for two categories of trucks, single unit, and combinations.
Continue to report the percent single unit and combination trucks during the peak hour for all sample sections (rounded to the nearest 10th).
Report average truck volumes that represent average conditions for that location. This means that the actual truck counts obtained would need to be adjusted just as volume data is adjusted to represent average conditions or an Annual Average Daily Truck Traffic (AADTT) as promoted in the 2001 TMG. States would be allowed to use existing procedures or may need to develop an interim process to adjust raw truck count data to represent average conditions until their traffic monitoring programs have collected sufficient data to calculate reliable AADTT.
4.2.1.5 Capacity
Highway surveillance systems (2009 Reporting Year)
Delete these data items from HPMS — there are other sources for these data.
Capacity calculations
Change edit routines in the submittal software so V/SF calculations less than 1.4 would be accepted as accurate; and
Require states to explain their process(es), in the data narrative, used for calculating capacity and the override values reported in HPMS.
Widening Obstacle
This is a new field to be used by States to identify obstacles within a specific distance from the roadway that would greatly complicate widening, and report this condition as a separate data item.
Widening Potential
Formerly called Widening Feasibility — while this data item still represents the number of lanes that can be added to a given section, the coding has changed. States are now asked to code the number of whole lanes that could be added from 0 (zero) to 9 (nine).
Counter-Peak Lanes
Add a new data item to indicate number of lanes in the counter-peak direction.
4.2.2 Long-Term Study
4.2.2.1 Capacity
K and D — Factors
FHWA, along with interested states, will explore improving the data collection and reporting of K-factors pending the availability of research funds.
4.2.2.2 Freight
Truck Volume Data
Research may be needed to develop a process to easily calculate truck AADTs, to standardize peak hour definitions, explore use of ITS technology, and relevance to truck commodity surveys.
4.3 Data Quality and Process Improvement
The discussions at the workshops and webinars identified a concern for improving the quality of the data provided by state and local governments and for process improvements. These recommendations will be initiated by FHWA to assist the data providers to improve the overall quality and consistency of the data and to improve the quality of the analysis and use for FHWA business purposes. Exploration of data quality and process improvement ensures adherence to afore mentioned HPMS and Reassessment goals.
4.3.1 Data Quality
4.3.1.1 Immediate Implementation
Field Manual
The guidance to the states in the HPMS Field Manual appears to be the source of some data consistency and quality concerns. The Office of Highway Policy Information is working with data users and data providers to rewrite the Field Manual as part of the HPMS Reassessment. The revised Field Manual will employ additional, more detailed descriptions and where appropriate, more illustrations. Whenever possible, actual state examples will be incorporated. A team of data users and state data providers will be put together to rewrite the manual. The target completion data for the new Field Manual is fall 2008.
Data Validation
FHWA will continue to improve its validation software to make certain that invalid data does not appear within any field in the database (e.g., a 4 is not coded in a field with valid inputs of 1, 2, or 3). FHWA also will work with users of the HPMS data to determine if/what invalid data may be appearing in the database that is sent to the users.
4.3.1.2 Long-Term Study
Oversight
The review of the HPMS validation software should be an ongoing activity, especially in light of the data adjustments that appear to be taking place in order to resolve data verification errors. The verification software is intended to improve data quality, but it appears that in some instances it is encouraging just the opposite. FHWA needs to determine the extent to which this is happening, and if there is anything that can be done at the administrative level to alleviate this.
4.3.2 Process Improvement
4.3.2.1 Immediate Implementation
Pavement Metadata
The pavement metadata describe the processes used for collecting and reporting some of the pavement data items. Currently States are optionally submitting to FHWA metadata on their IRI data. The IRI metadata are being reduced and additional metadata added for rutting, faulting, and cracking. The metadata are required beginning in data reporting year 2010. A complete list of the pavement metadata can be found in the HPMS Data Specifications.
Traffic Metadata
As with the pavement metadata, the reporting of traffic metadata is required beginning in data reporting year 2010. The traffic metadata focuses on the reporting of quality traffic data in accordance with the HPMS Field Manual, the Traffic Monitoring Guide (TMG), and the Traffic Monitoring System for Highways (TMS/H) regulations. The questions to be answered include:
What portion of current year AADTs are based on actual current year counts? On factored prior year counts?
How many vehicle classification stations are used for each functional system in the "Travel Activity by Vehicle Type" summary data form?
How is the travel determined for motorcycles, buses, and trucks (AADT and percent of travel)?
Describe the quality assurance program for both State and non-State traffic data collection.
Government Ownership Code
Finally, it is being proposed that the Governmental Ownership code be changed to match the coding of Ownership in the NBI. Governmental Ownership would be changed from a one to two-digit field with the following coding options:
Table 4.3 Government Ownership Codes

| Code | Government Agency |
| --- | --- |
| 01 | State Highway Agency |
| 02 | County Highway Agency |
| 03 | Town or Township Highway Agency |
| 04 | City or Municipal Highway Agency |
| 11 | State Park, Forest, or Reservation Agency |
| 12 | Local Park, Forest, or Reservation Agency |
| 21 | Other State Agency |
| 25 | Other Local Agency |
| 26 | Private (other than railroad) |
| 27 | Railroad |
| 31 | State Toll Authority |
| 32 | Local Toll Authority |
| 40 | Other Public Instrumentality (i.e., Airport, School/University, etc.) |
| 50 | Indian Tribal Nation |
| 60 | Other Federal Agency (not listed below) |
| 62 | Bureau of Indian Affairs |
| 63 | Bureau of Fish and Wildlife |
| 34 | U.S. Forest Service |
| 66 | National Park Service |
| 67 | Tennessee Valley Authority |
| 68 | Bureau of Land Management |
| 69 | Bureau of Reclamation |
| 70 | Corps of Engineers |
| 72 | Air Force |
| 73 | Navy/Marines |
| 74 | Army |
| 80 | Unknown |
Toll Facility Identifier
The FHWA Office of Highway Policy Information will develop the toll facility identifier codes as part of developing the new data model, and published in future Toll Facility Reports. Each toll facility will be represented as single record with a beginning and ending LRS, and the toll facility codes. The toll facility identifier codes will be used for linking the toll sections in HPMS with other FHWA toll databases including the toll facility finance data and the database used for developing the Toll Facilities report.
4.4 Summary of Data Changes
There are a significant number of data items that have been deleted and changed as a result of the Reassessment. Furthermore, the data model will allow the HPMS software to calculate or derive more data than was done in the existing software. The tables in the following sections list the deleted, changed, calculated, new, and unchanged data items. FHWA provided data are noted where applicable. States are responsible for collecting and reporting the remaining changed, new, and unchanged data items.
4.4.1 Changed or Deleted Data Items
Table 4.4.1 shows which of the existing HPMS data items have been deleted or changed. Most of the deleted data items are either a direct result of the new data model or the elimination of the ITS data. It should be noted that Future AADT Year, which is shown as being deleted, still exists in the new data model. However it is now an attribute or metadata for the Future Year data item. The IRI data item now has an attribute for the year IRI was collected which is a new requirement for this data element.
Table 4.4.1 Deleted and Changed HPMS Data Items
Deleted Data
Old Data Number
Data Item Description
3
Reporting Units
5
Section ID
6
Is Standard Sample
7
Is Donut Sample
8
State Control Field
9
Is Section Grouped
14
Urbanized Area Sampling Tech
18
Generated Functional Sys
21
Official Interstate Route No
31
Donut Area Volume Group
38
Electronic Surveillance
39
Metered Ramps
40
Variable Message Signs
41
Highway Advisory Radio
42
Surveillance Cameras
43
Incident Detection
44
Free Cell Phone
45
On-Call Service Patrol
46
In-Vehicle Signing
48
Donut Expansion Factor
51
Structural No/Depth
10
Route ID
11
Begin Point
12
End Point
15
Urban Code
17
F System
19
NHS1
24
Route Number
25
Ownership
26
STRAHNET1
27
Facility Type
33
AADT
35
IRI
37
HOV Type
50
Surface Type1
52
Climate Zone1
56
Median Type
62
Widening Potential
81
Pct Peak Single
82
AADT Single
83
Pct Peak Combination
84
AADT Combination
97
Future AADT
98
Future AADT Year
1 — FHWA provided data items
4.4.2 Software Calculated Data Items
The new geospatial data model has increased the number of data items that the HPMS software will be able to calculate when putting together the Standard Sample file. Some of these data will be calculated from other data sources within HPMS e.g. metadata, summary tables, or geospatial files. Others will come from the data that States code for individual sections of roadway, which the software will summarize for the Standard Sample sections.
States will also have the option of submitting measured data and having the HPMS software calculate the HPMS, which is described in section 4.4.5.
Table 4.4.2 Software Calculated
HPMS Data Items

| Old Data Number | Data Item Description |
| --- | --- |
| 4 | County Code |
| 13 | Rural/Urban Code |
| 16 | NAAQS Codes |
| 32 | Standard Sample Volume Group |
| 47 | Sample Identifier |
| 49 | Standard Sample Exp Factor |
| 63 | Length Class A Curves |
| 64 | Length Class B Curves |
| 65 | Length Class C Curves |
| 66 | Length Class D Curves |
| 67 | Length Class E Curves |
| 68 | Length Class F Curves |
| 69 | Horizontal Alignment Adequacy |
| 71 | Vertical Alignment Adequacy |
| 72 | Length Class A Curves |
| 73 | Length Class B Grades |
| 74 | Length Class C Grades |
| 75 | Length Class D Grades |
| 76 | Length Class E Grades |
| 77 | Length Class F Grades |
| 79 | Weighted Design Speed |
| 95 | Peak Capacity |
| 96 | Volume/Service Flow Ratio |
4.4.3 New Data Items
Listed below are the new HPMS data items. Most of these data items were discussed in the Issue Papers or during the Reassessment webinars and workshops. However, there are some that were identified much later in the Reassessment, during the development of the data model. An example would be curves and grades, previously discussed in this document. Others are the result of working with the data users and discovering that something new or a little different would better serve their needs. HOV Lanes for example came about through discussions with data users in the Office of Policy and Governmental Affairs, FHWA and the Office of Operations, FHWA. Both groups indicated that knowing the actual number of HOV lanes is very important to their programs.
Table 4.4.3 New HPMS Data Items
Data Item Description
Curves
Grades
Is Structure
HOV Lanes
Counter Peak Lanes
Special Toll Lanes
Route Prefix
Route Suffix
Alternative Route Name
Widening Obstacle
Rutting
Faulting
Cracking Fatigue
Cracking Transverse
Year Last Construction
Last Overlay Thickness
Thickness Rigid
Thickness Flexible
Base Type
Base Thickness
Soil Type
4.4.4 Unchanged Data Items
It is important to note that even though these data items were not changed or deleted, they did undergo a thorough review and evaluation. Not only was the coding for each item reviewed, but the overall Federal needs for these data were also considered. At no time was it assumed that any data would be "automatically" included. For example, Year Record and State Code are two data items that would appear to be mandatory. However, the HPMS Team within the Office of Highway Policy Information spent much time discussing and evaluating a number of ways to eliminate these data items. The team concluded that while these data are redundant (they appear in every single record) the minor reduction in coding effort was not worth the increased risk of having a data record or records associated with the wrong State and/or year.
Table 4.4.4 Unchanged Data Items

| Old Data Number | Data Item Description |
| --- | --- |
| 1 | Year Record |
| 2 | State Code |
| 20 | Future Facility1 |
| 22 | Route Signing |
| 23 | Route Qualifier |
| 28 | Truck Net1 |
| 29 | Toll |
| 30 | Section Length |
| 34 | Through Lanes |
| 36 | PSR |
| 53 | Year Last Improvement |
| 54 | Lane Width |
| 55 | Access Control |
| 57 | Median Width |
| 58 | Shoulder Type |
| 59 | Shoulder Width R |
| 60 | Shoulder Width L |
| 61 | Peak Parking |
| 70 | Terrain Type |
| 78 | Pct Pass Sight |
| 80 | Speed Limit |
| 85 | K Factor |
| 86 | Dir Factor |
| 87 | Peak Lanes |
| 88 | Turn Lanes L |
| 89 | Turn Lanes R |
| 90 | Type Signal |
| 91 | Pct Green Time |
| 92 | Number Signals |
| 93 | Stop Signs |
| 94 | At Grade Other |
1 — FHWA provided data items
4.4.5 Optional Data Items
The new data model has been structured to allow States to submit optional data through HPMS to FHWA. Some of these data are directly related to the HPMS data, while others are not. Each type of optional data is briefly described below.
HPMS Optional Data: The first type of optional data is one that FHWA no longer requires, but States would like to have maintained in HPMS. The descriptive data item State_Control_Field is no longer required, but due overwhelming feedback from States to maintain this data item, it has been reclassified as optional data since FHWA does not need it. The other type of optional HPMS data includes raw or unprocessed data that States would like to use to calculate required HPMS data items. For example, States that have the actual locations of stop signs or measurements of pavement grade can submit these data in a supplemental table and have the HPMS software determine the number of stop signs for each sample section or the classes of grades for each sample section. Software tools to provide this type of functionality would be part of a future development.
Non-HPMS Optional Data: The second type of optional data is collected through HPMS for other program offices in FHWA. These data are not reviewed by the HPMS Team and are simply passed along to the program office for which they are collected. The purpose for these data is to address the myriad of data currently being collected by other program offices that also include some of the HPMS data items. By doing this, FHWA hopes to reduce the collection of redundant data and further minimize the data reporting burden for States. This also addresses a long term goal of the Office of Highway Policy Information, which has been to "Collect data once and use it often."
4.5 HPMS Data Overview
The majority of HPMS data are associated with a given section of road. Some of these data are required for all roads, while others are only required for a portion of roads. In the existing HPMS data model, the first types of data are called "universe data" while the second types are called "sample data." The existing HPMS requires States to create sections that are homogenous for certain data. For each section, some of the universe and most of the sample data are either summarized or averaged. The new data model has eliminated the need for these sections and the summarization of data when States prepare their HPMS submittal. For most data items, States are encouraged to submit only actual, measured values and not summarized or averaged data.
The new data model allows States greater flexibility in collecting and reporting their data. The following is a summary of all the data items contained in HPMS.
4.5.1 Overview of Data Items
The new HPMS will be able to determine 97 data items at the highway section level; these data will come from the following sources:
State Provided: 68
Software Calculated: 23
FHWA Provided: 6
Table 4.7 provides an overview of the HPMS data items, the format of the data value(s), and the source of the data. Numeric data can be either a numeric code indicated by the text "Codes:" prior to the valid codes, or a number entered as a series of nines. For example, a field that allows a number with three digits left of the decimal and two digits right is indicated as "999.99." The number in the "Text Data" column indicates the number of text or numeric characters permissible. For both numeric and text data, the number of digits and characters indicated is a maximum.
Table 4.5 HPMS Data Items, Formats, and Source
Data Item
Numeric Value
Text Value
Date Value
Software
Calculated
FHWA Provided
Year_Record
yyyy
State_Code
Codes: 1 - 76
Route_ID
32
Begin_Point
99999.999
End_Point
99999.999
Section_Length
99999.999
Sample_Identifier
Yes
Standard_Sample_Exp_Factor
Yes
Standard_Sample_Volume_Group
Yes
County_Code 1
Yes
Urban_Code
99999
Rural_Urban
Yes
F_System
Codes: 1 - 9
NonAtt_Code 1
99999
Code
Yes
NHS
Codes: 1 - 9
mm/yyyy
Yes
Future_Facility
Codes: 1 - 2
Yes
STRAHNET
Codes: 1 - 2
mm/yyyy
Yes
Truck_Net
Code: 1
mm/yyyy
Yes
Route_Signing
Codes: 1 - 10
Route_Qualifier
Codes: 1 - 10
Route_Prefix
2
Route_Number
99999
Char(50)
Route_Suffix
2
Alternative_Route_Name
50 (optional)
Ownership
Codes: 1 - 80
Facility_Type
Codes: 1 - 5
Is_Structure
Codes: 0 - 1
Through_Lanes
99
Toll
Codes: 1 - 2
Toll ID: 20
mm/yyyy
Special_Toll_Lanes
Codes: 1 - 2
Turn_Lanes_L
Codes: 1-7
Turn_Lanes_R
Codes: 1-7
Peak_Lanes
99
Counter_Peak_Lanes
99
HOV_Lanes
99
HOV_Type
Codes: 1 - 3
AADT
999999
Future_AADT
999999
yyyy
Pct_Peak_Single
99.9
AADT_Single
999999
Pct_Peak_Combination
99.9
AADT_Combination
999999
K_Factor
99.9
Dir_Factor
99.9
Peak_Capacity
999999
Yes
Volume/Service_Flow_Ratio
999.99
Yes
Access_Control
Codes: 1 - 3
Lane_Width
99.9
Median_Type
Codes: 1 - 7
Median_Width
99.9
Shoulder_Type
Codes: 1 - 7
Shoulder_Width_R
99.9
Shoulder_Width_L
99.9
Peak_Parking
Codes: 1 - 3
Widening_Obstacle
Codes: X,A-G
Widening_Potential
9
IRI
999
mm/yyyy
PSR
99.9
Rutting
99.9
Faulting
99.9
Cracking_Fatigue
99.9
Cracking_Transverse
99.9
Surface_Type
Codes: 1 - 12
Climate_Zone
Codes: 1 - 4
Yes
Year_Last_Improvement
yyyy
Year_Last_Construction
yyyy
Last_Overlay_Thickness
99.9
Thickness_Rigid
99.9
Thickness_Flexible
99.9
Base_Type
Codes: 1 - 80
Base_Thickness
99.9
Soil_Type
Codes: 1 - 2
Yes
Curves 1
Codes: 1 - 6
Length_Class_A_Curves
Codes: 1 - 6
Yes
Length_Class_B_Curves
Codes: 1 - 6
Yes
Length_Class_C_Curves
Codes: 1 - 6
Yes
Length_Class_D_Curves
Codes: 1 - 6
Yes
Length_Class_E_Curves
Codes: 1 - 6
Yes
Length_Class_F_Curves
Codes: 1 - 6
Yes
Horizontal_Alignment_Adequacy
Codes: 1 - 4
Yes
Terrain_Type
Codes: 1 - 3
Vertical_Alignment_Adequacy
Codes: 1 - 4
Yes
Grades 1
Codes: 1 - 6
Length_Class_A_Grades
Codes: 1 - 6
Yes
Length_Class_B_Grades
Codes: 1 - 6
Yes
Length_Class_C_Grades
Codes: 1 - 6
Yes
Length_Class_D_Grades
Codes: 1 - 6
Yes
Length_Class_E_Grades
Codes: 1 - 6
Yes
Length_Class_F_Grades
Codes: 1 - 6
Yes
Pct_Pass_Sight
99.9
Weighted_Design_Speed
99.9
Yes
Speed_Limit
99
Type_Signal
Codes: 1 - 5
Pct_Green_Time
99.9
Number_Signals
99
Stop_Signs
99
At_Grade_Other
99
1 — Data Items not included in Sample Panel.
4.5.2 Coding of Section Data
As previously mentioned, each data item in the new data model is treated as an independent value. This means that when coding the data, States only need to indicate where data are present and where the values change. Each data item will contain five common fields that are used for linking the data to the State provided geospatial network. These linking variables are: Year Record, State Code, Route ID, Begin Point, and End Point. In addition, each record will also contain the variable Section Length.
All data records will have the following format:
Year Record, State Code, Route ID, Begin Point, End Point, Section Length, Data Item Code, Numeric Value, Text Value, Date Value.
For example, the functional classification for Interstate 80 in Nebraska would be coded as:
2009, 31, 80, 0, 455.27, F_System, 1, ,
The HPMS Data Specifications and Field Manual both provide additional examples and instructions on the proper coding of the section specific data.
4.6 Sample Data
A primary requirement for HPMS is to provide an input file for various FHWA models including those used to for the Biennial Conditions and Performance Report to Congress, often referred to as the C&P Report. These models include the Highway Economic Requirements System (HERS) and the FAF. The models produce Nationals level estimates of current and future highway system conditions and needs. Statistically accurate results are obtained by modeling highway system use and performance using a set of sample data, which in whole is referred to as the "sample panel." The sample panel typically comprises roughly 10% of all Federal-aid eligible roads.
The method for determining the sample panel has its roots in standard statistical principles. The number of samples required is based on the variability of the traffic counts (AADT) within a given Functional System. The current HPMS data model requires States to determine each sample and collect the individual data items based on the limits of that sample. Often States have to summarize data for each sample section since most data items don't have concurrent termini.
The new data model will make greater use of "raw" non-summarized HPMS data and build the sample panel as a view or extract of data that falls within calculated and selected limits. The same statistical principles using AADT will be used to stratify each functional system and determine the number of necessary samples. The limits of the randomly selected samples will be applied to the raw data and values for each data item will be aggregated for each sample section. The sample panel is only a view, so there is no modification or destruction of data. Expansion of the sample sections will not change from the existing data model.
4.6.1 Creation of the Sample Panel
As previously described, the sample panel will be a virtual file or "view" of calculated values within the new data model. The limits of the sample panel are created using a set of "core" data items. The resulting sample sections are homogenous for these core data items. The data model will create a universe of potential sample sections based on the spatial intersection of the core data. These data items are NHS, F_System, Urban_Code, Through_Lanes, Facility_Type, Is_Structure, and AADT. The Ownership data item will be aggregated between state and off-state and be used as the last core data item. Figure 4.6.1 illustrates how breaks in the core data, represented by the orange, green, and blue bars are used to determine the limits for the sample sections represented by the red bar.
Figure 4.6.1 Determining the Sample Sections

As the pool of potential samples is created, volume groups are assigned, and sample adequacy procedures are run to determine the necessary number of samples per volume group. At this point the sample sections are ready to be randomly selected, either by the HPMS software or the State. All efforts are being made to accommodate the use of existing State sample panels within the data model.
Once the sample sections have been selected, the limits of each sample section are used to summarize information from the section data. This is done using the aggregation rules to determine one value that is represents the entire sample section. The data model also uses section data to calculate some additional data fields, which include Capacity, Design_Speed, and Volume/Service Flow.
Figure 4.6.2 provides an overview of the process used for creating the Sample Panel.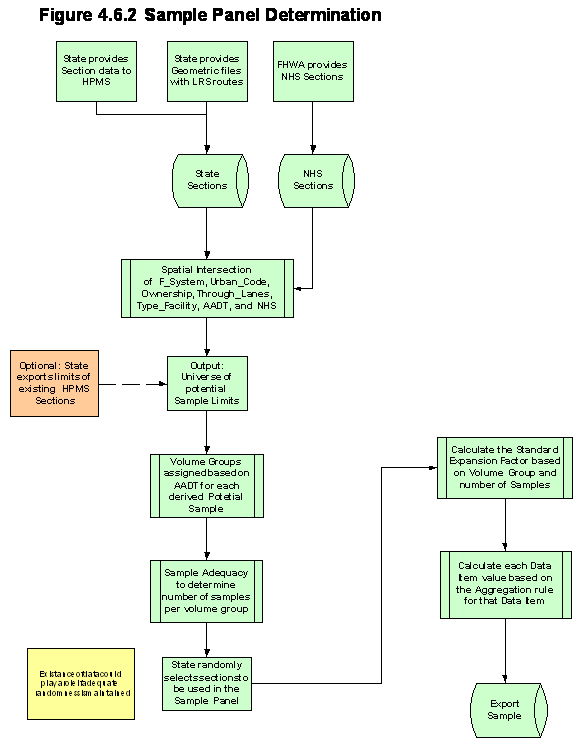 The following table contains a list of the data items that are used by the data model to create the sample panel. Please refer to the HPMS Data Specifications and HPMS Field Manual for a description of each data item, where they are required, and the proper coding.
Table 4.6 Data Items Used in Creating the Sample Panel

| Year Record | Counter Peak Lanes | Rutting |
| --- | --- | --- |
| State Code | HOV Lanes | Faulting |
| Route ID | HOV Type | Cracking Fatigue |
| Begin Point | AADT | Cracking Transverse |
| End Point | Future AADT | Surface Type |
| Section Length | Pct Peak Single | Year Last Improvement |
| Urban Code | AADT Single | Year Last Construction |
| F System | Pct Peak Combination | Last Overlay Thickness |
| Route Signing | AADT Combination | Thickness Rigid |
| Route Qualifier | K Factor | Thickness Flexible |
| Route Prefix | Dir Factor | Base Type |
| Route Number | Access Control | Base Thickness |
| Route Suffix | Lane Width | Terrain Type |
| Alternative Route Name | Median Type | Pct Pass Sight |
| Ownership | Median Width | Speed Limit |
| Facility Type | Shoulder Type | Type Signal |
| Is Structure | Shoulder Width R | Pct Green Time |
| Through Lanes | Shoulder Width L | Number Signals |
| Toll | Peak Parking | Stop Signs |
| Special Toll Lanes | Widening Obstacle | At Grade Other |
| Turn Lanes L | Widening Potential | Curves |
| Turn Lanes R | IRI | Grades |
| Peak Lanes | PSR | |
The export of the sample panel in the new data model will be very similar to the existing export function and will be in the same comma separated variable format.
_______________