U.S. Department of Transportation
Federal Highway Administration
1200 New Jersey Avenue, SE
Washington, DC 20590
202-366-4000
---
Heavy Vehicle Use Tax
Funding Our Nation's Highway Programs and Leveling the Playing Field

The Importance of
Interagency Collaboration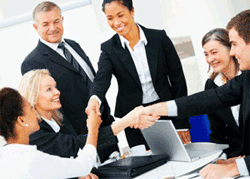 In 2008, a number of FHWA division staff members who are responsible for conducting HVUT compliance reviews were interviewed and asked for tips to improve the compliance review process. Their responses form the basis of a report documenting current compliance review practices, methods and procedures. Repeatedly, they noted the importance of interagency cooperation. In conducting the compliance review and taking steps to enhance HVUT enforcement, it was viewed as imperative that IRS, FHWA, state and local agents work together.
FHWA division staff outlined numerous places in the compliance review and enforcement process where collaboration was viewed as essential. Their comments are summarized as follows:
The IRS partners should be aware of any critical issues discovered during the during the compliance reviews.
Prior to conducting the compliance review, have the state generate a report that documents HVUT transactions by tag agency. Examining this report will help reviewers target certain agencies for record review.
State agents should be involved in compliance review meetings, including pre-review and post-review follow up.
State agents should be involved in the registration-form sampling process and verification of proof-of-payment.
It is important to obtain scanned originals of IRS stamps for your state and those used by the IRS' Cincinnati Processing Center. Any questionable forms should be forwarded to the primary HVUT contact at the IRS.
IRS participation in the review was said to achieve at least two objectives. First, the IRS can help validate the number of HVUT vehicles registered, which can be matched to the number the state has registered to get a preliminary indication of the compliance issue. Second, the IRS will be helpful in the proof of payment verification process by identifying false IRS stamps and cross-checking sample VINs against those for which HVUT payment has been received. While division staff agreed on the importance of collaborating with IRS agents, the level of IRS commitment to the HVUT compliance review varies significantly from state to state.
Page last modified on November 7, 2014.