Events
Webinars
Automated Traffic Signal Performance Measures (ATSPMs)
Innovation Exchange
Conversations Launching Change
Discussions targeted to Local Agencies, Tribes and Federal Land Management Agencies programs
Download Flyer (PDF)

BEEP...BEEP!
Time to bust the gridlock.
Get ahead of the traffic signal complaints, by finding maintenance and operations problems and resolving them before the phone rings.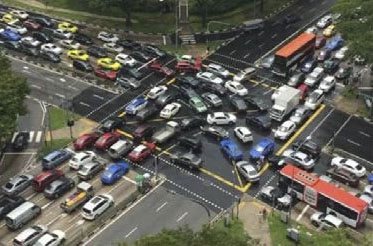 Timing is everything!
Learn how local agencies across the nation are using Automated Traffic Signal Performance Measures (ATSPMs) to improve the management, operation and maintenance of signalized intersections. Presenters will discuss the application of High-Resolution Data to support objectives and performance-based traffic signal maintenance and operations to improve safety and mobility.
Let's temper the frustration meter with ATSPM.
Thursday, October 26, 2017
11:30 AM-1:00 PM [EST]

To join the webinar, participants must register. Wherever possible, we encourage you to attend from a conference room where everyone can gather as a group.
For additional information please contact Sharon Gordon at sharon.gordon@dot.gov
We look forward to your participation!