Naming Rights
Naming Rights generate revenue by selling the right to name transportation assets to the private sector. Naming rights are an alternative means to generate revenue for transportation agencies that are looking for new sources of funding other than taxes and fees. One of the most common examples of selling naming rights is within the context of professional sports. Because most professional sports arenas, stadiums, fields, and tracks are publicly owned, many have been renamed by banking, telecommunications, and other private firms. For example, MetLife Inc pays $16 million a year to name the football stadium used by the New York Giants and Jets and Citibank and AT&T pay $20 million a year for the stadiums used by New York Mets and the Dallas Cowboy, respectively. However, as is evident from the examples below, transportation agencies around the country are using a variety of innovative ways to use naming rights to derive greater value from their existing assets.
Naming Rights Examples
Salesforce Transit Center
The Salesforce Transit Center is a new $6.0 billion, multimodal transit hub in downtown San Francisco. The five-block center provides a modern home linking commuter rail, light rail, and bus transit systems and is itself a new urban destination featuring a light-filled Grand Hall and a 5.4-acre rooftop park. The Transbay Joint Powers Authority, which was formed in 2001 to develop the project, entered into a $110 million 25-year sponsorship agreement with Salesforce, a software company headquartered in San Francisco. As part of the agreement, the complex is now known as the Salesforce Transit Center. Salesforce paid $1.0 million at the time of signing and an additional $9.1 million when bus service began in 2018. Beginning in 2021, the company will pay an annual fee of $3.28 million with 3 percent interest until the agreement expires. The Transbay Joint Powers Authority will use this money toward the estimated $20 million annual cost of operating the transit center and the rooftop park.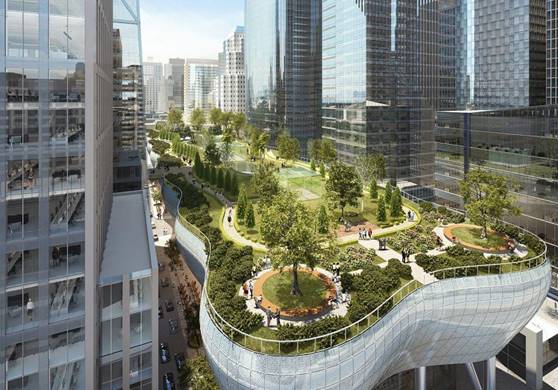 State Farm Assist Patrol Program
The State Farm insurance company is teaming with nearly 20 transportation agencies around the country to promote highway safety through the Assist Patrol Program. These programs operate response vehicles that patrol highways and provide assistance to motorists. In Ohio, for example, under a 2014 agreement State Farm Insurance is the exclusive title sponsor of the State Farm Safety Patrol, which operates a 22-truck fleet in Akron, Dayton, Cincinnati, Cleveland, Columbus, and Toledo. The Ohio State Farm Safety Patrol keeps highways safe by assisting stranded motorists with changing flat tires, fixing minor mechanical problems, removing debris from accident scenes, providing emergency medical assistance and small amounts of fuel. The program will also raise up to $8.65 million over 10 years for the Ohio Department of Transportation.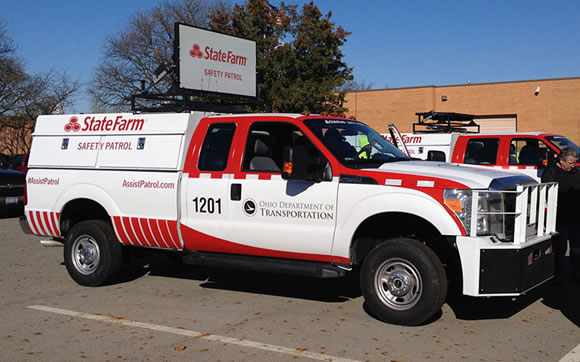 Atlantic Avenue Barclays Center Station
As part of the Atlantic Yards project in Brooklyn, New York, the developer Forest City Ratner is paying the Metropolitan Transportation Authority $200,000 a year for the next 20 years to rename the Pacific Street-Atlantic Avenue Station as the "Atlantic Avenue Barclays Center Station." Forest City Ratner also constructed a new entrance to the station providing access to the $1.0 billion Barclays Center arena and the adjacent Atlantic Yards development. The Atlantic Avenue-Barclays Center Station is the busiest transit hub in Brooklyn, with access to nine subway lines and the Long Island Rail Road.

Chicago Transit Authority Corporate Partnership Program
The Chicago Transit Authority (CTA) Corporate Partnership Program forges partnerships with well-established sponsors to create innovative branding and promotional opportunities. Sponsors can choose to promote their brands in multiple CTA assets through advertisements, or by having their name or logo installed at a CTA station. Revenue generated from the program is used to help offset costs for transit operations and maintenance, expanded service, and new projects. Current partners include MillerCoors, which sponsors the CTA's Free Rides on New Year's Eve, promoting safe and responsible celebration of the holiday by providing free rides.
The Southeastern Pennsylvania Transportation Authority AT&T / NRG Station
In June 2010, the Southeastern Pennsylvania Transportation Authority (SEPTA) approved a five-year contract to change the name of Pattison Station on the Broad Street line to AT&T Station, generating over $5 million. Septa received $3.4 million over five years, while its advertising agent Titan Worldwide received $2 million. Titan paid for the cost of changing signs and printing schedules and other materials with the new name. The agreement expanded AT&T's partnership with SEPTA as the only wireless carrier providing cell phone coverage underground on the Broad Street and Market-Frankford lines. The partnership also included station beautification and improved digital displays and signage.
In July 2018, SEPTA sold the naming rights of the same station to NRG Energy Inc. for a fee of $5.25 million. SEPTA will receive 85 percent of that amount, supplementing its operating budget. The remainder will be provided to Intersection, the company that represented SEPTA in negotiations over the naming rights. The agreement also includes two optional two-year extension periods. The agreement provides NRG with the right to locate salespeople at portable booths at SEPTA stations to market its energy utility products, allowing it to interact with thousands of riders on a daily basis. It also allows the firm to place 12 of its NRG Go portable power pack kiosks at SEPTA stations. Customers can rent portable power supplies for electronic devices from the kiosks for $3.99 per day.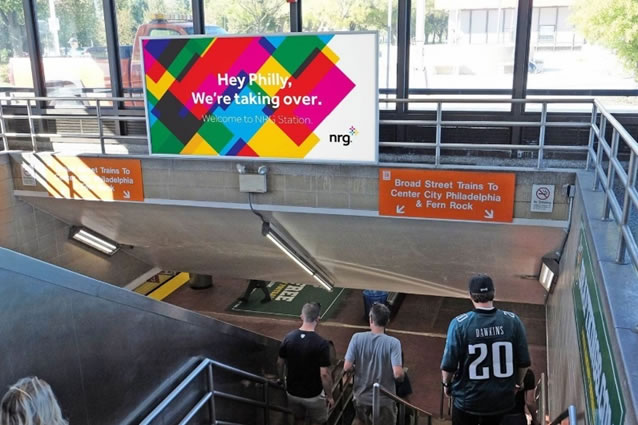 Resources
View Resources on Naming Rights
Legislation