Solar Energy Use
Solar photovoltaic technology provides a promising option for deriving value from highway rights-of-way and other land owned by state DOTs. Solar power installations can be sited on or above highway alignments and interchanges, rooftops, or elevated structures above parking lots or other DOT-owned facilities. Solar power projects can reduce state DOT energy costs and generate new revenue streams from private-sector developers who pay to use state-owned land. They also allow DOTs to tap into other federal, state, and local incentives associated with the generation of clean, renewable electric power.
There are three development models that state DOTs and toll road authorities have used to develop solar power facilities.
Direct Procurement and Ownership
With the direct procurement and ownership model, the state DOT procures and owns the solar energy system for its useful life. The state DOT also uses the electricity that the system generates and sends any excess power to the grid. The state DOT receives a return on its investment by reducing the amount of energy it purchases and may also receive credits if excess production is sent back to the grid.
When examining this development model, state DOTs should determine the effective cost of electricity produced by the system, based on the cost to construct, operate, and maintain the array. If the effective cost per kilowatt hour from the system is lower than the cost provided by the local utility, the state DOT realizes a cost savings. Additionally, excess energy sent to the grid provides net metering credits from the utility that would further reduce the agency's electricity costs. Net metering credits can range anywhere from the wholesale power rate that power plant operators receive, up to the full retail rate. If the state DOT is reimbursed at the full retail rate, this provides the agency a one-to-one reduction on its power costs per kilowatt-hour sent back to the grid.
The figure below shows the typical structure of direct ownership solar power system by a state DOT. While construction, operations and maintenance for the system may be contracted out, the state DOT must pay for these expenses and maintain ownership of the system. Electricity from the system flows to the state DOT, and excess energy not used by the state DOTs would flow to the grid, with the state DOT receiving any net metering credits from the utility.
Direct Procurement and Ownership Model Structure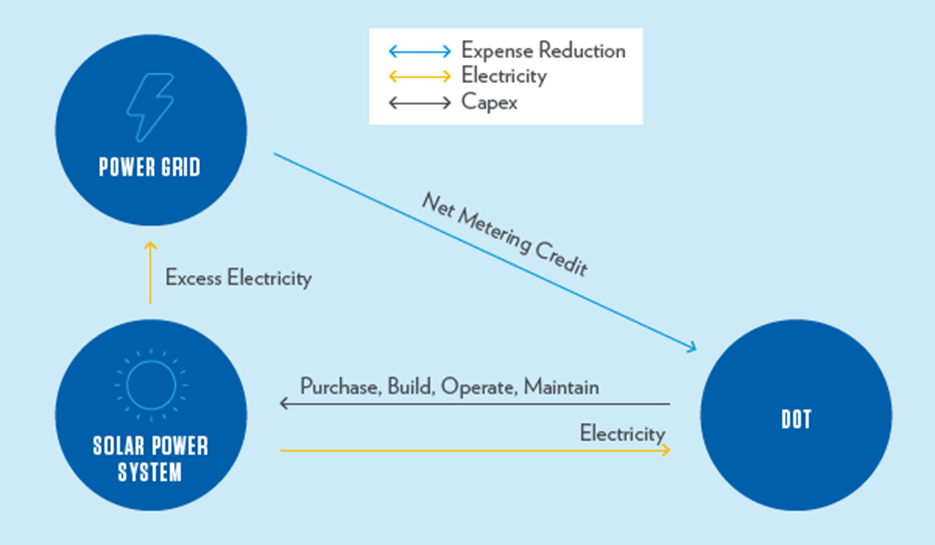 In some states, renewable energy system owners may also receive Solar Renewable Energy Credits (SREC). These credits are usually tradeable and can be sold to other entities that do no to meet renewable energy goals. SRECs can provide significant revenues to a system owner. While supply and demand on the SREC market is a driver of price, Solar Alternative Compliance Payments (SACP) - the fee a complying entity pays if they do not generate enough solar energy or purchase enough SRECs - sets a ceiling price on the market. SREC prices can vary greatly between states, depending on the amount of renewable energy that is generated, and what the Renewable Portfolio Standard and SACP are in the state. For example, in 2016, Massachusetts saw SREC prices of over $350 per credit, while in Ohio SRECs traded for around $15.
For state DOTs considering the direct ownership model, they may assess their potential return on by determining the payback period. This is the amount of time required for the energy savings, net metering credits, and other project revenues to generate enough value to offset the initial capital cost and ongoing maintenance costs associated with the solar power installation. Payback periods can vary greatly between projects, including those within a single state. Key drivers can result in shorter payback periods, including:
Low installation costs
A high retail electricity rate
Retail (or near retail) net metering credits
High solar irradiance
High SREC or other incentive values
Third-Party Ownership
With third-party ownership, the solar power system is financed, built, owned, operated and maintained by a private partner. Solar developers may include national companies or smaller local groups. The most common third-party ownership arrangement is a power purchase agreement (PPA). With PPAs, the state DOT purchases power from the private partner. The energy is purchased at an agreed-upon rate per kilowatt-hour, which is set below normal utility rates providing a cost savings to the DOT.
The third-party ownership model is often appealing because the state DOT does not incur upfront capital expenditures. In addition, private owners can access federal, state, and local tax incentives available to renewable energy system owners. Unlike the public sector, private developers must pay taxes on the income derived from solar facilities, so the tax incentives enable them to derive greater value from their investment than what would be available to a state DOT. This, in turn, allows the private partner to sell the electric power generated by the solar power system below the effective rate a public agency could achieve through direct ownership.
Third-party ownership contracts usually last through the useful life of the system - about 20 years. In addition to the energy savings provided through the PPA, there are other revenue streams available. For example, a third-party owner will often pay an agreed-upon land lease payment to the agency, since the system is sited on state DOT property.
The figure below shows the general structure of a PPA project. Unlike direct ownership, with a PPA, the public-sector sponsor does not assume the cost risk, so if the system has significant maintenance or other issues, they will not see a difference in their agreed-upon rate, and the owner of the system will incur the maintenance costs.
Third-Party Ownership Model Structure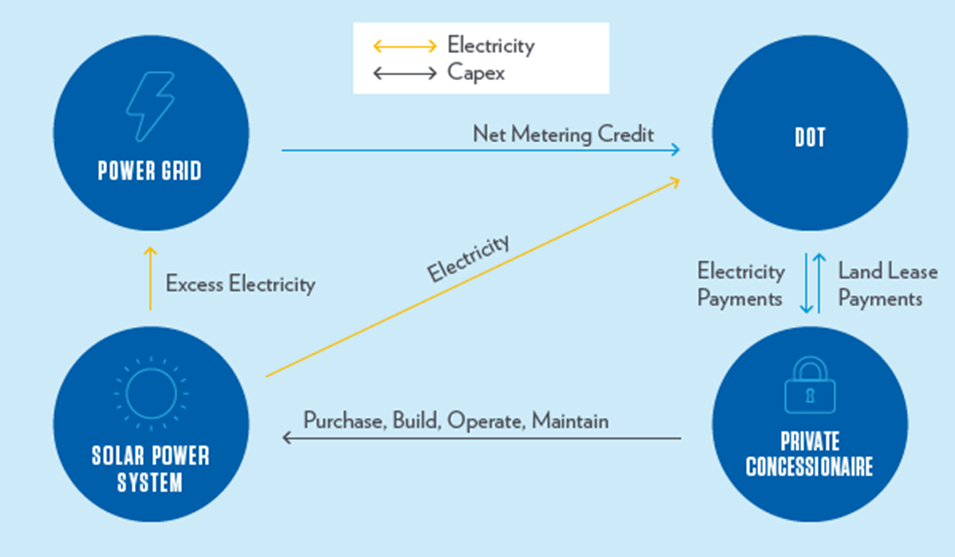 Hosting a Third-Party Developer
With the third-party developer model a state DOT allows a third-party developer or utility to install and operate a solar power system on its property. Also known as hosting, with this type of arrangement the electricity flows to either an external offtaker or the grid. The state DOT essentially serves as the landlord for the system, with the system owner making lease payments to the state DOT over the length of the lease. In most cases, the state DOT would not have any obligations beyond allowing the owner to access, operate, and maintain the system. This model may be a good choice for state DOTs that have land that is well suited to solar power generation but not proximate to DOT facilities necessitating electric power.
Hosting requires no upfront investment by the state DOT. The state DOT receives lease payments from the system owner. While hosting is a simple arrangement for state DOTs, it may not provide the same value as a PPA or outright ownership.
Solar Energy Use Examples
A number of state DOTs have already implemented solar projects. They vary from small pilot projects, to large multi-site, multi-megawatt programs. As more states look to solar photovoltaic (PV) as a method to derive value from underutilized real estate assets, it is helpful look at the different strategies that other state DOTs have used to review deploy solar power installations on their properties and lessons learned from their collective experience.
Additional information is available for the four state DOT solar projects identified in the Table below.
Highway Right-of-Way Solar: Massachusetts DOT
Project Overview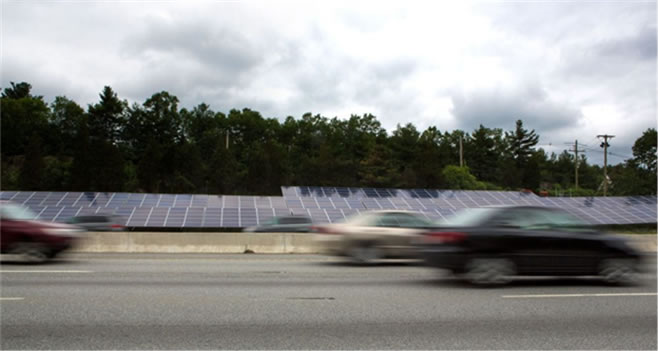 Massachusetts DOT (MassDOT) developed five solar power arrays along their highway system. Solar power development sites include service plazas, interchanges and highway embankments. Completed in 2015, the sites total 2.5MW of capacity, enough to power the equivalent demand of 410 homes. 1 In addition to the sites already constructed and in service, additional sites are under development.
The current sites are ground-mounted, fixed-tilt solar PV systems. The systems are owned by a private developer, and located on MassDOT-owned land - part of their highway right-of-way. MassDOT pays the developer for the energy from the system, which the agency consumes.
The projects serve as a reliable source of value of MassDOT, providing both energy cost savings, and lease revenue, while supporting agency and state goals.
Project Objectives
Location
Sizing
Array Type
Cost savings, lease revenue, supporting renewable energy and GreenDOT initiative
MA Turnpike and highways
2,500kW
(enough to power 410 homes)
Ground-mount, fixed-tilt systems.
Background
MassDOT began its solar energy development efforts with an 80kW pilot project, which became operational in 2012. In 2013, MassDOT issued an RFP for PV generation at multiple parcels within the state highway right-of-way, to total up to 6MW of capacity, under which the existing 2.5MW was developed.
MassDOT has identified available sites for solar energy development. These sites include areas within the right-of-way as well as rooftops and parking lots where solar canopies can be constructed.
MassDOT Solar Sites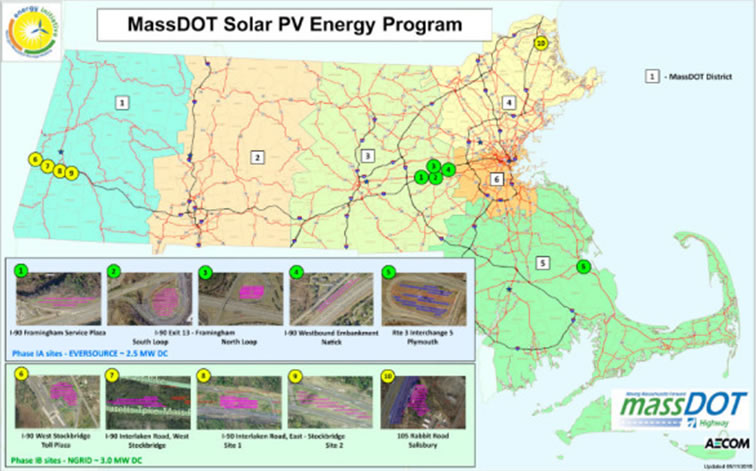 Development Model and Procurement
Ameresco - a private-sector solar energy developer - was selected as MassDOT's private partner, and thus far has installed and commissioned the five solar energy sites. For these systems, MassDOT uses a 20-year PPA with Ameresco, which retains ownership of the system. Ameresco owns, operates, and maintains the system, while MassDOT pays for the electricity.
Under the PPA, MassDOT must pay for all the electricity the systems generate, at the agreed-upon rate. If the system produces more energy than MassDOT can consume, that energy is sent to the grid, and MassDOT is compensated through net metering credits from their utility.
Value to MassDOT
The PPA rate that MassDOT pays for the electricity from a project is less than it would pay if it purchased the power from local utilities. These energy savings are projected to at least $15 million over the 20-year contract period. Should retail prices of energy rise further than anticipated, MassDOT's savings would increase further.
Ameresco also pays MassDOT lease payments for use of the land that MassDOT still owns. MassDOT charges Ameresco $17.50 per kW of capacity to lease the land. The lease payments will total approximately $2 million over the 20-year contract period.
The systems earn Massachusetts SRECs. Massachusetts SRECs are valuable due to the state's high renewable energy standards, and alternative compliance payment rates. In 2016, SRECs traded for between $300 and $450 in Massachusetts. These SRECs are attributed to the system owner, Ameresco, who can then sell them on SREC markets. The revenue provided by the SRECs allows Ameresco to provide a further discounted rate to MassDOT.
By using a private developer partner, MassDOT can access lower electricity rates, and thus greater savings than they could have accessed by owning the system directly. As a private entity with a tax burden, Ameresco can realize the value of tax incentives that MassDOT would not be able to access had they owned the system. This value to Ameresco again discounts the price per kilowatt-hour of electricity that they require of MassDOT. The rate MassDOT is paying Ameresco is far lower than MassDOT would be able to realize on its own.
While not a value to the agency specifically, local towns receive tax revenue from Ameresco since it is a for-profit company. The solar equipment is valuable property upon which local towns can assess property taxes. Some towns do grant exemptions from property taxes to renewable energy facilities, or will negotiate a payment in lieu of taxes with the developer.
Project History
MassDOT's solar program originated out of their GreenDOT initiative. GreenDOT is an initiative focused on sustainable transportation through the following:
Climate resilience
Greenhouse gas reduction
Healthy transportation
Environmental stewardship
Renewable energy
GreenDOT's goals included reducing greenhouse gas emissions and having a percentage of its energy needs supplied by renewable sources. MassDOT could have purchased RECs to meet its goals, but wanted to contribute more directly to the development of renewable energy.
Before this solar power program along the turnpike and highways, MassDOT created a pilot project in Northampton, adjacent to its Highway District 2 administrative building. MassDOT owns this project, which totals only 67kW. The electricity generated is used on site, to offset the demand of the administrative building. Despite its small size, the system provides about a quarter of the facility's annual demand. The pilot system also allowed MassDOT to familiarize itself with the challenges of solar development, as well as the benefits - lessons it carried into its larger solar power developments.
Thus far with 2.5MW installed, MassDOT has seen good results and is identifying even more sites for solar development. Some sites originally identified for development have run into issues such as high interconnection costs. MassDOT is working with Ameresco to identify more feasible sites, where interconnection costs would not outweigh the benefits of a solar array. In addition to the typical ground-mount sites, rooftops, and canopies, MassDOT is considering piloting solar power mounted on highway noise-barriers, which have been used in some parts of Europe, but have not yet been used in the US. 2
Unique Aspects or Challenges of Project
MassDOT also identified interconnection as a key issue that is holding up some of their projects, and has rendered some proposed projects unfeasible. Prohibitive costs of interconnecting to the grid in some utility territories have shifted the focus to other sites. By leveraging the development experience of Ameresco, MassDOT will identify projects that are in better and cheaper places for interconnection, which will help MassDOT identify and plan future projects.
While the revenue from the generated SRECs has provided a significant discount to MassDOT purchase price from Ameresco, the regulations surrounding SRECs in the state have been changing. Instead of having a single SREC market, Massachusetts has had multiple rounds of SRECs, with different values, depending on which year the generating system was placed in service.
Massachusetts Department of Energy is creating a new solar incentive program called the Solar Massachusetts Renewable Target. MassDOT and Ameresco are watching the development of this program closely, since the program will affect the value of incentives received by future MassDOT systems.
Solar Canopy at I-96 and M-44 Interchange, Michigan DOT
Project Overview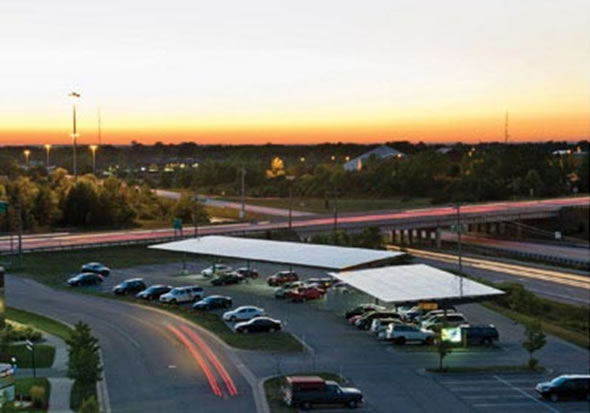 Michigan DOT (MDOT) developed a solar canopy at the interchange of I-96 and M-44 in Grand Rapids in 2012. Upon installation, the solar canopy was the first of its kind in the state, and was pursued by MDOT for its economic, community, and environmental benefits. The solar canopy comprises 385 panels, mounted above a carpool lot, and provides shade and cover for approximately 45 parking spaces. 3 The panels power light-emitting diode (LED) lighting for these parking spaces, as well as the LED lighting installed at the I-96 and M-44 interchange. The array is sized to generate 100 kW, which is enough to power 16.4 homes. 4 Each year, the canopy produces approximately 106,000 kWh and offsets around 80.6 tons of carbon dioxide.
The project is an effective demonstration of solar power in a right-of-way, since it was successfully funded and installed, provides quantifiable savings to MDOT, and serves several other functions for MDOT and the surrounding community. The project is low maintenance and provides cover and shade for the carpool lot, additional revenue to MDOT through net metering, and educational opportunities for the public and other state DOTs. 5 Another useful feature of the project is a real-time data monitoring website, which shows the power output by the solar canopy on a given day, month, or year. 6 The website also converts energy generated to useful metrics for comparison. For example, in 2015 the canopy generated 100,380 kWh, which is equivalent to driving 169,072 miles or burning 75,278 pounds of coal.
Project Objectives
Location
Sizing
Array Type
Cost savings, provide clean energy to the nearby community, and reduce environmental impacts
1-96 and M-44 Interchange, Grand Rapids, Michigan
100 kW
(enough to power 16 homes)
385 panels; solar car port/canopy
Background
MDOT originally pursued this project to reduce electric power costs to the DOT, while producing renewable energy that benefits the nearby community and reducing environmental impacts. MDOT staff developed the idea and first gained the necessary approval, internally, to move forward. The canopy was then planned through partnerships between the DOE, MDOT, and the Michigan Energy Office. MDOT received a $650,000 federal grant from the DOE, which allowed the project to move forward. MDOT partnered with Michigan-based companies to design and construct the project, and coordinated with the local utility to connect the canopy to the grid. The solar canopy has now been in operation for five years, and MDOT staff feel that the project has been a success.
Development Model and Procurement
MDOT owns the project outright and in addition to generating low-cost power, it also derives revenue from net metering. When the project produces more electricity than MDOT uses, the additional electricity flows to the grid where it can be used by others. This allows MDOT to offset its use at times when it needs to pull energy from the grid. The solar canopy feeds power to the grid during the day, offsetting its nocturnal power consumption, and MDOT receives more credits in the summer than winter.
Value to MDOT
The solar canopy is generating approximately $13,500 each year via net metering credits. The initial investment for the project was $650,000 from a federal grant and cumulative savings since installation have been around $67,500, so it has been a valuable return for MDOT. The entire system is still under warranty (25-year warranty for panels, 10-year warranty for other system components), and MDOT expects the project to remain in operation well into the future.
Unique Aspects and Lessons Learned
MDOT ran into a few challenges during project implementation, but the main issue involved coordination with the local utility. The utility was reluctant to approve the project for net metering, because the project sizing was designed to be larger than what the carpool lot and the I-96 and M-44 interchange lights needed. The utility requested that they cut the system in half. MDOT staff felt that this would affect the overall goals of the project; cutting the system in half would mean that less renewable energy would make it to the grid for others to use. MDOT worked with the utility to gain approval and were required to hook the system up to two meters, costing the project an additional $25,000 to $30,000.
MDOT has taken steps outside of the solar canopy project to increase its renewable energy generation. MDOT installed solar arrays at rest stops back in 2011, along I-75 in St. Ignace, Welcome Centers on I-94 in New Buffalo, and US-127 in Clare, as well as a wind turbine at the St. Ignace rest area. MDOT would like to continue to increase the renewable energy capacity of the right-of-way, but MDOT staff noted that new projects may be a while off. There is not the necessary support internally to develop another solar in right-of-way project, since it is difficult for MDOT to allocate the funding needed away from projects at hand. Installing solar also requires an upfront investment that can be difficult to justify when there are pressing needs in the local community. MDOT staff are hopeful that another opportunity will arise in the near term.
E-470 Toll Road Solar Project, E-470 Public Highway Authority
Project Overview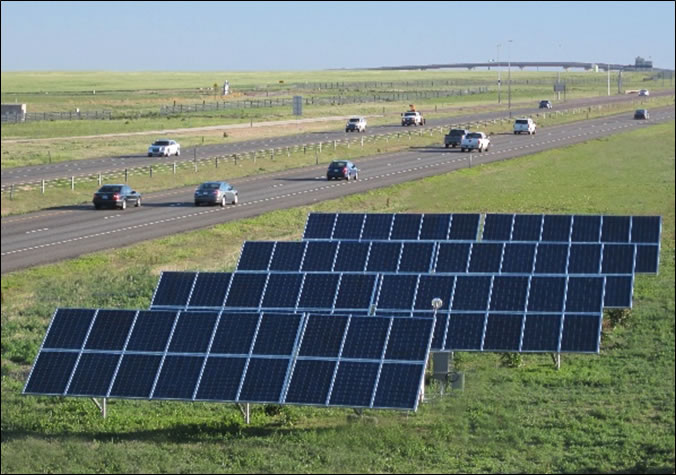 In 2012, the E-470 Public Highway Authority (the E-470 Authority) completed one of the largest toll road solar installation projects in the US. The project consists of 22 sites along a 17-mile stretch of the 47-mile orbital corridor around Denver.
The solar panels connect to Xcel Energy's electricity grid, with 21 of the sites primarily powering road surveillance cameras, streetlights, variable message signs, toll collection equipment, toll plazas, and maintenance facilities along the corridor. The last site is located at the E-470 Administrative Headquarters, where an array of panels is installed on the roof and directly powers the building.
The E-470 Authority developed the project on a public-private partnership (P3) basis and executed a 20-year solar PPA with Adamas Energy Investments (now C2 Energy Capital). The 20-year PPA locked down a fixed energy cost rate of 6.13 cents per kilowatt-hour for the first six years, then a fixed annual increase for 14 more years. This was lower than the rate Xcel Energy offered E-470 at the time. Adamas Energy paid the entire $2.8 million for the project and retained $750,000 in federal tax credits and $180,000 in Xcel Energy rebates. 7
Project Objectives
Location
Sizing
Array Type
Combat rising energy costs, reduce E-470's environmental footprint, and achieve these objectives with minimal financial investment.
The project is located along a 17-mile stretch of the E-470 toll road corridor in Denver between 64th Avenue and Gartrell Road.
707.3 kW capacity
(enough to power 116 homes)
Top-of-pole mounted solar arrays, rooftop panels
Background
E-470 is a 47-mile toll highway that runs around the north, east, and southern flanks of the greater Denver area from State Highway C-470 at I-25 in Douglas County south of Denver to 160th Avenue and to I-25 on the north end of the metropolitan area, connecting to the Denver International Airport along the way.
From 2008 to 2011, the E-470 Authority saw its energy costs rise from 7.5 cents to 11 cents per kilowatt-hour, and projections indicated that the E-470 Authority's energy costs would increase by 48 percent over ten years. 8 To reduce energy costs, the E-470 Authority conducted an energy audit and adopted a number of the recommendations to improve its energy efficiency. The E-470 Authority also researched alternative energy sources and determined that solar power would be the most viable option. Additionally, in 2010, Colorado voted to increase the state's renewable energy standard to 30 percent by 2020 for Investor Owned Utilities, including Xcel Energy, the local power utility, which put policy in the E-470 Authority's favor. The E-470 Authority issued a request for proposals for an investment firm to finance, install, and operate the system, and a total of six firms responded. The E-470 Authority ultimately signed a PPA with Adamas Energy Investments in 2011.
The entire project included 22 installations with individual metering and interconnection points. Most sites are top-of-pole (TOP)-mounted solar arrays installed with helical piers. The helical piers are square, steel shafts terminating in large screws, used in place of faster and cheaper pile-driven posts, as deep foundation supports in challenging terrain or poor soil conditions. This robust mounting is designed to withstand the high snow and wind loads found in areas along E-470 with open topography, making the panels vulnerable to exposure.
While this project is currently a standalone project, E-470 connects to Northwest Parkway, another toll road, which also has a solar system in place (installed June 2011). In a similar type of P3 as E-470, Northwest Parkway signed a 20-year PPA with Soltura Energy Capital to install seven solar power systems with 62 kW capacity along the right-of-way. From 2011 to 2016, the project yielded over $21,000 in cost savings. 9 In 2016, the E-470 Authority attempted to pursue solar power systems with other local energy companies for other segments of the toll road without success.
Development Model and Procurement
Under this P3, the solar arrays are owned by Adamas Energy Investments, operated and maintained by Martifer Solar, and the E-470 Authority buys power from Adamas at the fixed PPA price. The project is located on E-470 right-of-way land. Adamas Energy does not submit any lease payments to the E-470 Authority and retains all financial income derived from the project including the federal tax credits and Xcel Energy rebates. Martifer Solar USA engineered, installed, and maintains the solar array sites. A local company, EVstudio, designed the special helical piers for the arrays. This partnership was key to the success of the project in that the E-470 Authority did not incur any capital costs.
Value to the E-470 Public Highway Authority
In its first year of operation, the system produced over 1 million kWh of electricity, saving the E-470 Authority approximately $20,000 in energy costs. 10 Twenty-one of the sites provided 100 percent of the electrical needs for two toll plazas, the primary maintenance facility, and 18 toll ramps; and the rooftop installation on the headquarters building provided 13 percent of the building's energy needs. 11 In 2013, it was estimated that the system delivered 47 percent of E-470's overall power needs. 12 Over 20 years, the E-470 Authority estimates a savings of over $1 million in electricity costs and avoidance of almost 17,000 metric tons of CO2 emissions. 13 The E-470 Authority also installed two solar-powered road surveillance cameras where no electrical infrastructure existed, saving $150,000 in avoided electrical infrastructure costs. This project also contributes to Xcel Energy's government-mandated goal to acquire 30 percent of its electricity through renewable sources by 2020. The installation and continued maintenance of the solar project created 89 construction and electrical jobs in the local community. 14.
In 2013, the E-470 Authority won International Bridge, Tunnel and Turnpike Association's Toll Excellence Award for social responsibility for its solar project.
In April 2014, retail electricity costs had risen to 11.5 cents per kilowatt-hour, while the E-470 Authority continued to pay the PPA rate of 6.13 cents per kilowatt-hour.
Unique Aspects and Lessons Learned
The increase in the state's RPS in 2010, along with the other financial incentives mentioned previously that Adamas Energy Investments was qualified to receive, helped the E-470 Authority secure favorable electricity rates.
Buy-in from the E-470 Authority leadership for the project initially took some time, but after the financial analysis indicated that a PPA arrangement could deliver substantial benefits, the biggest challenges became the negotiation of the solar PPA and real estate lease agreements with Adamas Energy Investments, and the Solar Reservation Agreements with Xcel Energy. 15
Baldock Solar Highway, Oregon Department of Transportation (ODOT)
Project Overview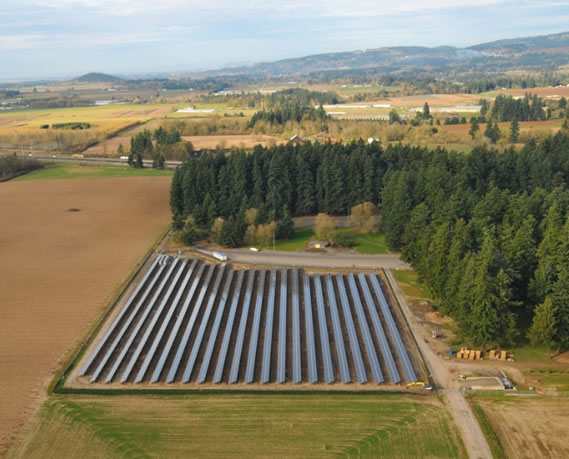 In 2011, ODOT began to construct the nation's first and largest solar highway. Within one year, the Baldock Solar Station was up and running, including a 1.75-megawatt solar array with 7,000 solar panels. The station is along I-5 northbound, about 14 miles south of Portland and near Wilsonville, OR. It set a precedent for using sustainable energy in highway right-of-way, and continues to be an example of using renewable energy to power highways. Ideas from the Baldock Solar Station have since been used to implement other projects around the US and the world. The project is fully Oregon-based, using an Oregon-based solar company, Oregon management and consulting, and Oregon construction, analysis, and other materials. While the solar station's construction was slightly delayed due to funding issues, it now generates a massive amount of power for the surrounding community, and is a successful example of using a renewable resource in highway right-of-way.
Project Objectives
Location
Sizing
Array Type
Provide discounted electricity to ODOT, make use of right-of-way, support renewable energy
Located in a field owned by ODOT, adjacent to a rest area
1,750kW capacity
(enough to power 287 homes)
Ground mount, fixed tilt system
Background
The idea for the Baldock Solar Station was first in 2008, due to the successful implementation of solar panels along the Autobahn highway in Germany. At the time, no similar projects in the US had been attempted. Soon afterwards, a partnership with the Portland General Electric was formed, and Baldock was chosen as a site that would be quick to develop for solar panel use. Additionally, the project was expedited due to Oregon's Business Energy Tax Credit Program set to expire, which provided a 50 percent tax credit for eligible project costs. From 2010 to 2011, the project's progress began to slow as the state dealt with a budget crisis, but picked back up again at the end of 2011 and was completed in 2012. The construction of the solar station took five and one-half months.
Development Model and Procurement
The Baldock Solar Station was built and is operated by Portland General Electric (PGE), but is situated on land owned by ODOT. The energy produced from the station provides 12 percent of ODOT's electricity need in the PGE Service Area. The project will also help Oregon reach its renewable energy standard of providing 25 percent of its power from renewable energy by 2025.
Value to ODOT
The project cost about $10 million to complete, including funding from private financing, tax credits, and public investment. The solar array produces approximately 1.97 million kilowatt-hours of clean and renewable energy, which is helping ODOT to reach is renewable energy goals.
Baldock will continue to provide a significant amount of ODOT's electricity needs in the PGE service area for 25 years with minimal upkeep costs. Additionally, the solar station eliminates about 43 metric tons of CO2 emissions that would otherwise be in the atmosphere.
The entire highway transportation system in Oregon requires about 50 million kilowatt-hours of energy per year to run the lights, ramp metering, signals, etc. The Baldock Solar Station produces almost 2 million kilowatt-hours a year of energy. ODOT has about 19,000 lane miles of right-of-way, and installing solar panels on only 120 miles of this space would produce enough energy to meet the state's transportation energy requirements.
Unique Aspects and Lessons Learned
By partnering with PGE, ODOT set themselves up for success. While working with private developers has its advantages, by working directly with PGE, ODOT or a partner developer did not have to negotiate with PGE over interconnection, or net metering. Since PGE is the electric utility and the system owner, they added a level of certainty to the project that contributed to its success.
Resources
View Resources on Solar Energy Use
Footnotes
1 Solar Energy Industries Association, https://www.seia.org/initiatives/whats-megawatt
2 Pettey, Donald. MassDOT. (2017, July 27). personal correspondence.
3 Federal Highway Adminsitration, Renewable Energy Generation in the Highway Right-of-Way, FHWA-HEP-16-052, n.d., https://www.ssti.us/wp/wp-content/uploads/2016/07/FHWA-solar_ROW.pdf
4 Solar Energy Industries Association, https://www.seia.org/initiatives/whats-megawatt
5 Michigan Department of Transportation, https://www.michigan.gov/mdot/0,4616,7-151-9623_60312-270429--,00.html
6 Michigan Department of Transportation, http://mdotnetpublic.state.mi.us/grsc
7 TEA 2013 Submission Form for E-470 Solar Project (2013).
8 Ibid.
9"NWP Solar - Fact Sheet", Northwest Parkway.
10 TEA 2013 Submission Form for E-470 Solar Project (2013).
11Â  Ibid.
12 Crawford, David. The sunshine subsidy for Colorado's tollways, ITS International. (November - December 2013).
13 TEA 2013 Submission Form for E-470 Solar Project (2013).
14 Ibid.
15 Carson, Jessica. (2017, July 31). Personal correspondence.