Overview
Tribal Government-to-Government Consultation Meetings
FHWA is holding Tribal consultation meetings in Washington, District of Columbia; San Diego, California; Tulsa, Oklahoma; and Anchorage, Alaska, to gather federally recognized Tribal governments' comments on the Tribal Technical Assistance Program (TTAP) pilot before securing long-term services for the program.
View Federal Register Notice
July 9, 2019, 1:00 p.m. to 4:00 p.m. (AKST)
Anchorage, Alaska
July 11, 2019, 1:00 p.m. to 4:00 p.m. (CST)
Bloomington, Minnesota
TTAP Training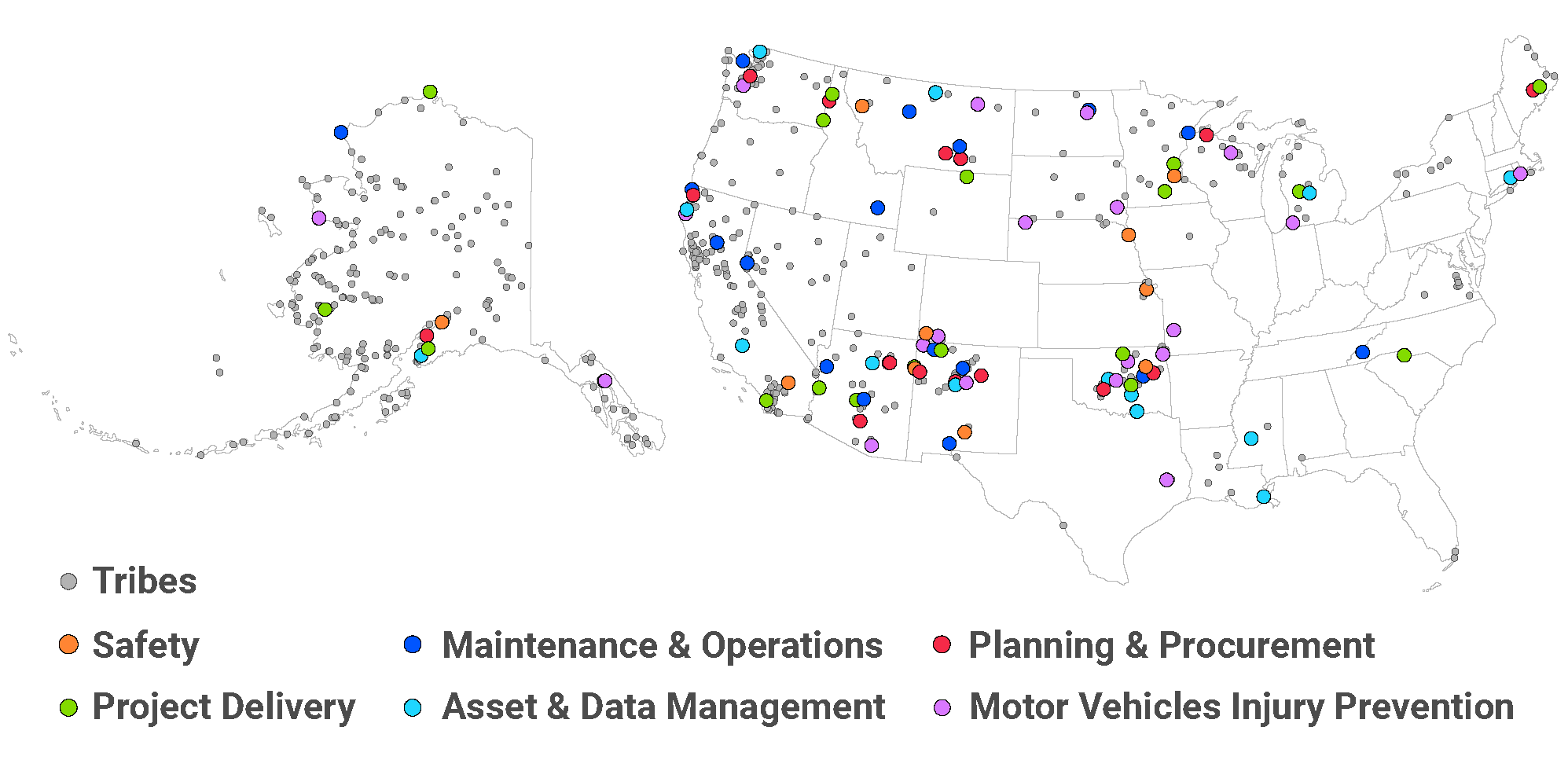 Delivered

3,360

Offered

5,669

One-year minimum*

4,500
*Training began March 20, 2018
| Responses | Safety | Project Delivery | Planning & Procurement | Maintenance & Operations | Asset & Data Management | MVIP |
| --- | --- | --- | --- | --- | --- | --- |
| I can use this information in the field | 4.9 | 4.6 | 4.7 | 4.7 | 4.7 | 4.9 |
| I would recommend this class | 4.9 | 4.6 | 4.7 | 4.7 | 4.7 | 4.8 |
| Instructor created learning opportunities | 4.9 | 4.6 | 4.8 | 4.8 | 4.8 | 4.9 |
| The class met my expectation | 4.9 | 4.7 | 4.8 | 4.8 | 4.9 | 5.0 |
| Instructor understands the subject | 4.9 | 4.7 | 4.8 | 4.8 | 4.9 | 4.9 |
* Participant end of class survey scores
Course Rankings
Gravel Road Maintenance and Design
Soil Stabilization and Dust Abatement
Getting Your Project Started
Work Zones
Pipe Installation and Maintenance
Temporary Traffic Control
Course Rankings
Understanding Life Cycle Costs & Optimum Treatment Types
GPS Data Collection and Asset Management
Roundabouts
Introduction to Asset & Data Management
Improving Safety at Intersections
Signalized Intersections
| BIA Region | Tribal | Non-Tribal |
| --- | --- | --- |
| Rocky Mountain | 388 | 46 |
| Navajo | 362 | 25 |
| Alaska | 323 | 55 |
| Northwest | 280 | 67 |
| Pacific | 224 | 146 |
| Western | 212 | 43 |
| Southwest | 204 | 75 |
| Eastern Oklahoma | 188 | 113 |
| Eastern | 163 | 112 |
| Southern Plains | 163 | 57 |
| Midwest | 144 | 8 |
| Great Plains | 56 | 27 |
2-hour Self-paced
NA

Registrations

183

Completions
4-week Instructor-led
713

Registrations

126

Completions
2-Hour Self-paced
Responses
Safety
Project Delivery
Planning & Procurement
Maintenance & Operations
Asset & Data Management
MVIP
I can use this information in the field
4.9
4.7
4.4
4.7
4.5
4.7
I would recommend this class
4.9
4.6
4.2
4.6
4.4
4.5
Instructor created learning opportunities
4.8
4.5
4.5
4.7
4.7
4.5
The class met my expectation
4.8
4.4
4.1
4.6
4.3
4.5
Instructor understands the subject
4.9
4.7
4.5
4.7
4.7
4.8
4-Week Instructor-led
Responses
Safety
Project Delivery
Planning & Procurement
Maintenance & Operations
Asset & Data Management
MVIP
I can use this information in the field
4.8
4.6
4.4
4.5
4.3
5.0
I would recommend this class
4.7
4.5
4.4
4.3
4.3
5.0
Instructor created learning opportunities
4.6
4.3
4.2
4.2
4.3
5.0
The class met my expectation
4.4
4.5
4.3
4.2
4.3
5.0
Instructor understands the subject
4.7
4.4
4.5
4.5
4.6
5.0
* Participant end of class survey scores
Average
Response Time
55 minutes
Total Requests
124
Example Topics
Safety Plan Documentation
Intersection low cost safety solutions
Direction on documenting road conditions, accident data and fatalities/serious accidents
TTAP Center Selected for Two-Year Pilot
The University of Virginia, Center for Transportation Studies (CTS) has been selected as the Tribal Technical Assistance Program Center under a two-year pilot. Operating under CTS will be five virtual Centers of Excellence for Planning and Programming, Data and Asset Management, Maintenance and Operations, Safety, and Project Delivery and a national Roads Scholars Certification program. To learn more about the award, please review the webinar recording or the transcript below.
Restructuring Background
Legislation
In 1982, Congress recognized that providing access to surface transportation technology, technical assistance and training to the local public agencies (LPA) was necessary and created the Rural Technical Assistance Program (RTAP). RTAP began in October 1982 with ten centers as a pilot program. The Intermodal Surface Transportation Efficiency Act (ISTEA) legislation in 1991 renamed this program the Local Technical Assistance Program (LTAP) and created the Tribal Transportation Assistance Program (TTAP). The TTAP was designated to provide technical assistance to tribal governments. This technical assistance was geared toward building capability within the federally recognized tribes (currently 565) to manage their highway assets. ISTEA legislation included the requirement to operate federally funded technical assistance centers. Legislation authorizing the TTAP is found at 23 U.S.C 504(b).
History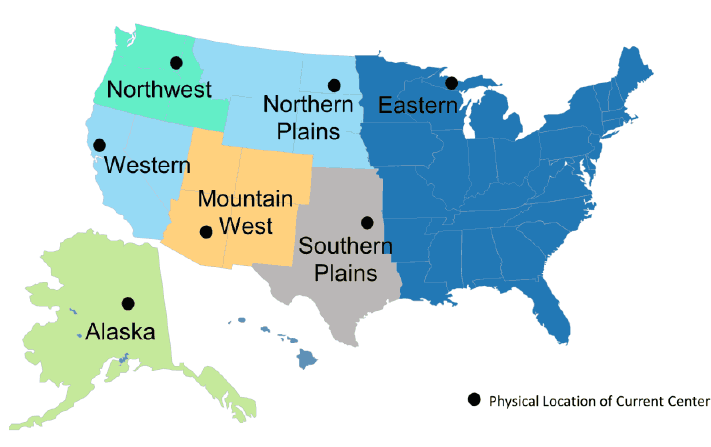 Four TTAP centers were initially established in Colorado, Michigan, Montana, and Washington in 1992. In 1995, three additional centers were added in Oklahoma, California and Alaska. Most of the centers are hosted by academic institutions (5 of 7). The seven TTAP Centers have been represented by the Mountain West TTAP Center in Gilbert, AZ; the Northwest TTAP Center at Eastern Washington University; Eastern TTAP Center at Michigan Tech University in Houghton, MI; the Alaska TTAP Center at the University of Alaska-Fairbanks, AK; the Western TTAP Center at the National Indian Justice Center (NIJC) in Santa Rosa, CA; the Northern Plains TTAP at Bismarck, ND; and the Southern Plains TTAP Center at Oklahoma State University in Stillwater, OK.
Implementation
FHWA is the lead agency for the TTAP. The services of the TTAP centers have been managed by FHWA through five-year cooperative agreements - 2 base years and 3 option years. In FY17, three centers had cooperative agreements that were set to expire and the other four centers had completed their base years and were into their option years. Each Center have been federally funded at $290,000 per year.
Program Evaluation
In evaluating the path forward, we began evaluating where the program was in its delivery of services to the tribes. We looked through the existing statements of work and, more importantly, looked through the data that the Centers themselves provided to us on the delivery of training and technical assistance to the tribes. Performance data is collected annually from all LTAP and TTAP Centers. FHWA compared the 5-year total training hour average for the TTAP Centers with LTAP Centers of comparable funding. The results were informative. The TTAP centers 5-year training hour average is 233 hours and that average for LTAP Centers, with comparable funding, is over twice that amount - 576 hours. In calendar year 2016 the numbers were equally striking 194 (TTAP) compared to 490 (LTAP).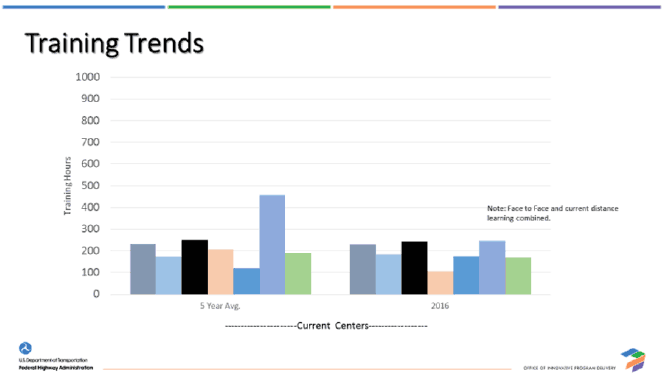 In addition to the raw numbers, the review indicated that some of the regions served by the TTAP Centers were not receiving training in the focus areas for the program that were established at the strategic level - Infrastructure Management, Safety, and Workforce Development. Comments also expressed by Tribes indicated that some felt underserved by the TTAPs and the training format was not sufficient to build workforce skills.
Our focus through all of our thinking, then and now, is how can the TTAP best meet the needs of the tribes in transportation training and technical assistance. How can we focus more resources on providing the basic mission of this program? Is the current model for delivery of the TTAP the best model? Can we consolidate administrative functions to reduce overhead and shift that time and energy into training and technical assistance? Can we leverage other resources? Can we take advantage of advancements in learning options while maintaining face-to-face interaction to help the tribes solve particular problems?
Two Year Pilot Program
Based on program analysis, the input gathered from the Tribal Transportation Program Coordinating Committee (TTPCC), and feedback from our engagement with the tribes, FHWA is moving forward with the centralized delivery model. The new model will increase the amount and types of education and technical assistance services available to the tribes and supports consistent and uniform training and training materials across the twelve BIA regions. It will supplement face to face training with e-learning options.
Webinar: Tribal Technical Assistance Pilot
PDF | HTML | Transcript | Audio Recording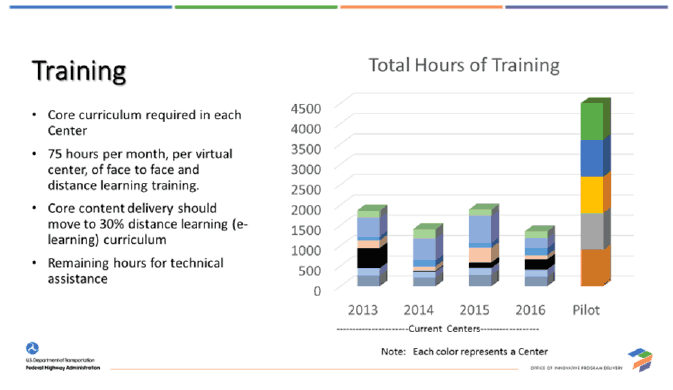 Under the national center will be five Virtual Centers of Excellence (CoE) in: Asset & Data Management, Planning and Program Management, Project Delivery, Safety, Operations & Maintenance (figure 4). The new model will initiate national Tribal Roads Scholars Certification Program to provide comprehensive and up-to-date skill development on heavy equipment operation and construction theory topics. As this model changes what has been in place for over 20 years, FHWA agreed with the TTPCC to deploy this model in a two-year pilot and evaluate its performance in concert with the tribes.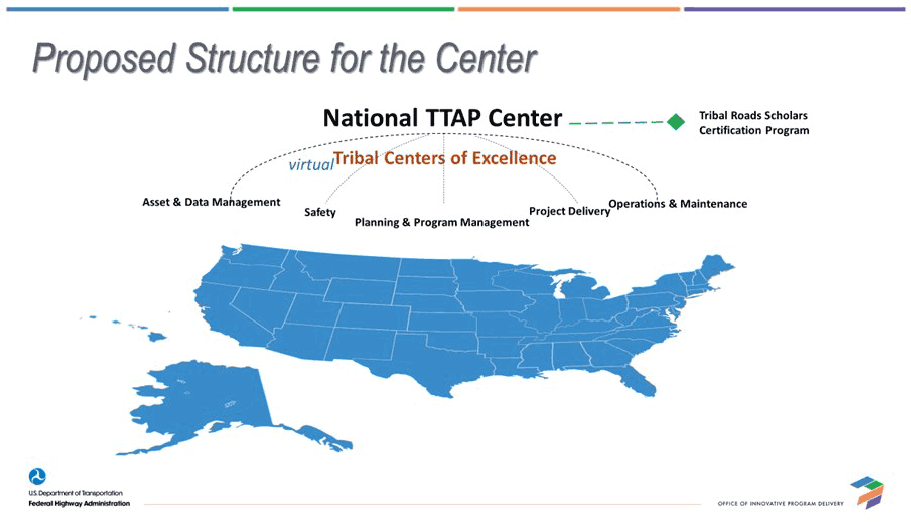 Communication During the Pilot
November 2017 - Webinar Introducing the New TTAP Center
January 2018 - Webinar Sharing TTAP Training Plan for 2018
June 2018 - FHWA hosts Virtual Listening Session to Discuss Pilot
November 2018 - FHWA hosts Virtual Listening Session to Discuss Pilot & Share 2019 Training Plan
March 2019 - FHWA hosts Virtual Listening Session to Discuss Pilot
June 2019 - FHWA Informational Webinar on Future TTAP Plans
November 2019 - Pilot Ends
November 2019 - Webinar Sharing Final Results of Two-Year Pilot
FHWA will also engage with tribal governments as requested at regional and national meetings for the purpose of exchanging information and input on the action. The FHWA will also continue to work with and update the TTPCC throughout the pilot.
TTAP Pilot On-line Listening Sessions
From August 2018-May 2019, the Federal Highway Administration will hold listening sessions on the TTAP Center Pilot. FHWA awarded the TTAP Center contract to the University of Virginia in Charlottesville, Virginia.
The listening sessions will provide a forum to collectively hear from tribes on their experiences using the TTAP service under the Pilot. A brief update on current implementation of the pilot will be provided before engaging in dialogue and discussion.
Previous Listening Sessions Available Online
Tribal Listening Session Webinar - August 23, 2018
View the webinar: https://connectdot.connectsolutions.com/pc0xj00iylrg/
NTTC 2018 Listening Session 16 - September 16, 2018
View the webinar: https://connectdot.connectsolutions.com/p1d92qycfjuo/
Informational Webinars on Restructuring
Informational webinars continue to be held on the restructuring of the Tribal Transportation Assistance Program (TTAP) to solicit Tribal input, opinion, and feedback. Below are the links to the recorded webinars.
Two-Year Pilot Overview
Informational webinars on the restructuring of the Tribal Transportation Assistance Program (TTAP) to a centralized delivery model were held in June 2017 to solicit tribal input, opinion, and feedback on a proposed two-year pilot. Each webinar concluded with a unique Q&A session and chat room. A follow-up letter summarizing 'next steps' was sent out to tribal leaders in July 2017.
Webinar 1, June 22, 2017: Transcript
Webinar 2, June 23, 2017: Transcript | Audio Recording
Webinar 3, June 26, 2017: Audio Recording
Webinar 4, June 28, 2017: Audio Recording
Webinar 5, June 29, 2017: Audio Recording
TTAP Restructuring at the 2017 National Tribal Transportation Conference
Tony Furst, FHWA's Chief Innovation Officer, provided remarks on the TTAP restructuring during the plenary session of the National Tribal Transportation Conference.
September 25, 2017 Presentation: PDF HTML
Introduction to the New Center
The UVA, Center for Transportation Studies (CTS) was selected as the Tribal Technical Assistance Program Center under the two-year pilot.
Webinar, December 6, 2017 PDF | HTML | Transcript | Audio Recording
Webinar to Share the 2018 Training Program
The new TTAP Center is up and running. This webinar shares the 2018 training program, the technical assistance process and reveals the new website.
Webinar, March 5 and 15, 2018 PDF | HTML | Audio Recording
Tribal Transportation Program Safety Funds (TTPSF)
The Tribal Transportation Program Safety Fund - Notice of Funding Opportunity was published on September 21, 2017. Applications will be accepted from federally recognized Indian tribes until December 11, 2017. Eligible projects for the TTP Safety Fund under the FAST Act include: development and revision of transportation safety plans, crash data improvement, road safety audits, and other activities, primarily infrastructure improvements, as listed in 23 U.S.C. 148(a)(4). More information can be found at https://flh.fhwa.dot.gov/programs/ttp/safety/ttpsf.htm
Transportation Investment Generating Economic Recovery
The U.S. Department of Transportation (USDOT) is now soliciting applications for the Transportation Investment Generating Economic Recovery (TIGER) program.
The Consolidated Appropriations Act, 2017 appropriated $500 million, available through September 30, 2020, for National Infrastructure Investments otherwise known as TIGER grants. As with previous rounds of TIGER, funds for the fiscal year (FY) 2017 TIGER grants program are to be awarded on a competitive basis for projects that will have a significant impact on the Nation, a metropolitan area, or a region. The FY 2017 Appropriations Act specifies that TIGER Discretionary Grants may not be less than $5 million and not greater than $25 million, except that for projects located in rural areas the minimum TIGER Discretionary Grant size is $1 million.
Prospective TIGER applicants are encouraged to look through the full Notice of Funding Opportunity. The deadline to submit an application for the FY 2017 TIGER grant program is Monday, October 16.
To provide technical assistance to a broad array of stakeholders, USDOT will be hosting a series of webinars during the FY 2017 TIGER grant application process:
New, 5-Day Bridge Inspection Course for Professional Engineers
The National Highway Institute just launched another version of its highly-acclaimed bridge inspection course. This new instructor-led training meets the National Bridge Inspection Standards (NBIS) requirement for comprehensive bridge inspection training and has been streamlined to better suit experienced Professional Engineers, while retaining strong emphasis on bridge inspection, documentation, and coding requirements.
During the course participants complete a virtual bridge inspection in lieu of a traditional field trip, saving time and expenses while providing more flexibility. It also ensures participants gain exposure to more than 30 different bridge conditions and defects that would likely not be present on a single bridge in the field. For more information on this course please visit: https://www.nhi.fhwa.dot.gov/course-search?tab=0&key=130056&res=1
Tribal Leaders Letters