Bundled Facilities Overview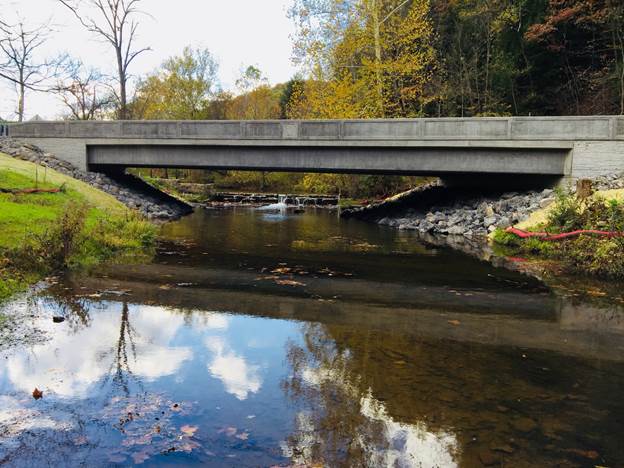 Project bundling is a procurement process where a single contract is used for the rehabilitation or replacement of multiple projects. Bundled contracts may also include the design and ongoing maintenance of those facilities. Bundled contracts may be used a single county, metropolitan region or state and they may also be tiered to allow a combination of different types of work. Bundling strategies achieve economies of scale and builds momentum to remediate critical facilities that are often in deficient condition.
Project bundling enables project sponsors to address large numbers of projects with similar needs using standard and cost effective rehabilitation and replacement strategies. The resulting economies of scale increase efficiency and creates the potential for cost and time savings. Larger bundled contracts may also attract private investors or larger and more experience contractors and help sponsoring agencies reduce project backlogs. States and other project sponsors are using multiple funding sources and financing tools to pay for these larger contracts.
Asset bundling may be used with a wide range of projects including roads, traffic signals, fiber optic and broadband networks, travel plazas, alternative fuel stations, and parking facilities. Given the large number of structurally deficient bridges across the country, contracts bundling bridge replacements and repair are increasingly common. These bridges are often smaller, low-volume structures located in rural areas. However, closures or limits on vehicle weights affect travel time, freight movements, and emergency response times adversely. Smaller rural bridges often lend themselves well to bundling because standardized designs can be used for replacement structures.
As shown below, states and local regions are using project bunding on many different types of projects.
Bridge Bundling Projects: State Departments of Transportation in Georgia, Massachusetts, Missouri, Nebraska, New York, Ohio, Oregon and Rhode Island have undertaken bridge bunding programs to reduce costs and streamline design and construction. The $1.1 billion Pennsylvania Rapid Bridge Replacement Project is replacing 558 structurally deficient bridges through a public-private partnership (P3) procurement. In addition to designing, financing and reconstructing the bridges, the private partner will maintain them for 25 years. Project bundling can be undertaken at the state or local level, as in Northampton County, Pennsylvania, which has bundled the remediation/ replacement of 33 bridges in to a $37.5 million design-build-finance-maintain contract extending over 14 years.

Road Bundling Projects: The City of Flagstaff in Arizona regularly groups smaller road repair, overlay and safety projects into geographically grouped procurements. This enables it to procure larger projects, which contractors prefer. In additional to attracting more competitive bids, the bundled projects are more efficient for city staff to manage. Michigan has bundled asphalt resurfacing projects on State Road 17 and U.S. 31.
Freeway Lighting Bundling Projects: Michigan DOT has entered a $172 million, 15-year P3 agreement to upgrade and maintain highway lighting in metropolitan Detroit. After a two-year construction period where it installed energy-efficient LED lighting, the private partner is responsible for keeping the lights operational to defined performance standards over a 15-year period. Other states including Arizona, the District of Colombia, Florida, Illinois, Massachusetts, and Virginia, have bundled projects for lighting systems involving 15,000 to 70,000 street lights.
Broadband & Fiber Optic Bundling Projects: The Kentucky Transportation Cabinet awarded a P3 contract to develop a 3,000-mile fiber optic network along roads throughout the state. The first segments are scheduled to be operational in less than two years and the system will ultimately extend across all of the commonwealth's 120 counties. Other states bundling broadband and fiber optic projects include Arizona, Alabama, California, Colorado, District of Colombia Florida, Georgia, Kansas, Illinois, Massachusetts, Pennsylvania, Virginia and Washington.
Travel Plaza Bundling Projects: In 2009, the Connecticut DOT awarded a single contract to a private investment partner to upgrade, operate, and maintain its 23 highway travel plazas located on routes I-95, I-395 and 15. The original facilities were built in the 1940s and 1950s and had seen no significant capital improvements in the prior 25 years. The 35-year concession required the private operator to fund $178 million in facility upgrades within five years. The operator is also required to pay Connecticut DOT a minimum rent, as well as a percentage of gross revenues and a fee per gallon of fuel sold. These rates increase every five years. Other states that have bundled travel plaza concessions include Maryland, Massachusetts, Michigan and Ohio.
Electric Vehicle Charging Station Bundling Projects: Washington state is planning to bundle the procurement of electric vehicle fast charging stations near exits along major highways. Electric vehicle charging stations are anticipated to be located at private businesses along the I-5, I-90, US 2, US 101, I-82, and US 395 corridors and other key roadways in the state. Washington State has launched numerous efforts to help expand and promote the purchase and use of electric vehicles, and it is also working to ensure more fast-charging stations are available along major commuter corridors. The state's goal is to be able to support a fleet of 50,000 plug-in electric vehicles by 2020.
Natural Gas Fueling Station Bundling Projects: In 2016, the Pennsylvania DOT awarded a $84.5 million design-build-finance-operate-maintain contract to install compressed natural gas (CNG) fueling stations at 29 public transit agency sites. The private partner be responsible for operating the fueling stations for 20 years. Seven of the fueling stations will also sell CNG to private citizens, with the state receiving a 15 percent royalty for fuel sold to the public. This bundled project capitalizes on the abundance of natural gas in Pennsylvania and is intended to encourage transit agencies to utilize CNG vehicles by reducing fuel costs. When completed, the fueling stations will supply gas to more than 1,600 CNG buses operating in the state.
Resources
Projects