Publications
An Integrated Approach to Sustainable Roadside Design and Restoration
Previous Chapter « Table of Contents » Next Chapter
FHWA-WFL/TD-13-001
January 2013
Front Materials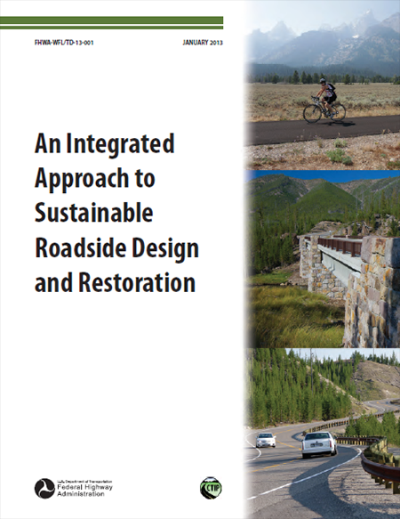 Technical Report Documentation Page
1. Report No.
FHWA-WFL/TD-13-001
2. Government Accession No.
3. Recipient's Catalog No.
4. Title and Subtitle
An Integrated Approach to Sustainable Roadside Design and Restoration
5. Report Date
January 2013
6. Performing Organization Code
7. Author(s)
Amit Armstrong, Ph.D., P.E., FHWA
Lindsey R. Sousa, AICP, LEED AP, Parsons Brinckerhoff Colin Haggerty, P.E., CFM, Parsons Brinckerhoff Conrad Fischer, Parsons Brinckerhoff
Will Wagenlander, AICP, Parsons Brinckerhoff
8. Performing Organization Report No.
9. Performing Organization Name and Address
Parsons Brinckerhoff
555 17th Street, Suite 500 Denver, CO 80202 USA
10. Work Unit No. (TRAIS)
11. Contract or Grant No.
12. Sponsoring Agency Name and Address Federal Highway Administration Western Federal Lands Highway 610 East 5th St.
Vancouver, WA 98661
13. Type of Report and Period Covered
Final Report 2012
14. Sponsoring Agency Code
HFL-17
15. Supplementary Notes
COTR: Amit Armstrong, Ph.D., P.E.
This technology deployment was funded under the FHWA Federal Lands Highway Coordinated Technology Implementation Program (CTIP).
16. Abstract
The roadside represents the interface between the roadway and the surrounding environment, and plays an important role in protecting the larger ecosystem. Roadsides are dynamic environments that require unique treatments and restoration approaches. This guide presents an integrated and holistic approach to incorporating sustainable solutions into disciplines such as hydraulic design, geotech, aesthetics and vegetation, among others. The intent of this research is not to create a new design process, but rather to incorporate recommendations into the existing design process. The goal is to raise awareness about the trade-offs inherent in designing a sustainable roadside so that these issues are addressed early-on in project development. A checklist of sustainability strategies is included in this guidebook as a tool within the project development process.
17. Key Words
Roadside Restoration, Sustainability, Integrated Approach
18. Distribution Statement
No restriction. This document is available to the public from the sponsoring agency at the website http://www.ctiponline.org/publications/library.aspx publications
19. Security Classif. (of this report)
Unclassified
20. Security Classif. (of this page)
Unclassified
21. No. of Pages
106
22. Price
$0.00
Form DOT F 1700.7 (8-72)
Reproduction of completed page authorized
Table of Contents
Figures
Tables
ACRONYMS AND ABBREVIATIONS
ADT - average daily traffic
AASHTO - American Association of State Highway and Transportation Officials
BMP - best management practice
BSM - bioretention soil mix
CFT - cross functional team
COV - cone of vision
CSS - context-sensitive solutions
DOR - Department of Roads
DOT - Department of Transportation
EMP - Environmental Mitigation Program
EPA - Environmental Protection Agency
FHWA - Federal Highway Administration
FLH - Federal Lands Highway
FS - Forest Service
ICC - Intercounty Connector
INVEST - Infrastructure Voluntary Evaluation Sustainability Tool
ISO - International Organization for Standardization
IRVM - integrated roadside vegetation management
IVM - integrated vegetation management
LCA - lifecycle assessment
LID - low-impact development
NCHRP - National Cooperative Highway Research Program
NPDES - National Pollutant Discharge Elimination System
NPS - National Park Service
PLD - porous landscape detention
RMNP - Rocky Mountain National Park
SR - State Route
WSRA - Wild and Scenic Rivers Act
DEFINITIONS
CONTEXT SENSITIVE
SOLUTIONS
Context sensitive solutions (CSS) is a collaborative, interdisciplinary approach that involves all stakeholders in providing a transportation facility that fits its setting. It is an approach that leads to preserving and enhancing scenic, aesthetic, historic, community, and environmental resources while improving or maintaining safety, mobility, and infrastructure conditions (FHWA, 2007).
ENGINEERING
The profession in which knowledge of mathematical and natural science is applied with judgment to develop ways to utilize, economically, the materials and forces of nature for the benefit of mankind (Accreditation Board of Engineering and Technology, 1963).
HIGHWAY
Any facility designed to accommodate motorized vehicular transportation. This includes all functional roadway classifications (arterial, collector, local) that accommodate motorized vehicles (FHWA, 2012).
RESTORATION
The return of an ecosystem to a close approximation of its condition prior to disturbance (NRC, 1995).
ROADSIDE
Roadside includes the sides of the road beyond the pavement (travel lanes and shoulders). The area includes the limits of the right-of-way and may extend beyond the right-of-way if public land. The roadside is typically an area disturbed by roadway construction or reconstruction.
SUSTAINABILITY
Sustainability is satisfying basic social and economic needs, both present and future, and the responsible use of natural resources, all while maintaining or improving the well- being of the environment on which life depends (FHWA, 2011).
SUSTAINABLE DEVELOPMENT
With respect to development, the Brundtland Commission of the United Nations succinctly stated that sustainable development is "development which meets the needs of current generations without compromising the ability of future generations to meet their own needs" (United Nations, 1987).
SUSTAINABLE HIGHWAY
FHWA views sustainable highways as an integral part of the broader context of sustainable development. A sustainable highway should satisfy the functional requirements of societal development and economic growth while reducing negative impacts on the environment and consumption of natural resources. The sustainability of a highway should be considered throughout the project lifecycle - from conception through construction (FHWA, 2011).
SUSTAINABLE SOLUTION
A sustainable solution is a specific project activity, feature, or process that accomplishes the goal of promoting sustainability.