Preface
Notice
This document is disseminated under the sponsorship of the U.S. Department of Transportation in the interest of information exchange. The U.S. Government assumes no liability for the use of the information contained in this document.
The U.S. Government does not endorse products or manufacturers. Trademarks or manufacturers' names appear in this report only because they are considered essential to the objective of the document.
Quality Assurance Statement
The Build America Bureau and the Federal Highway Administration (FHWA) provide high-quality information to serve Government, industry, and the public in a manner that promotes public understanding. Standards and policies are used to ensure and maximize the quality, objectivity, utility, and integrity of information. The Bureau and FHWA periodically review quality issues and adjust their programs and processes to ensure continuous quality improvement.
Technical Report Documentation Page
1. Report No.
FHWA-HIN-18-001
2. Government Accession No.
3. Recipient's Catalog No.
4. Title and Subtitle
Guide to P3-VALUE 2.1: User Guide & Concept Guide
5. Report Date
January 2018
6. Performing Organization Code
FHWA
7. Author(s) Wim Verdouw, IMB/Rebel, Marcel Ham, IMG/Rebel
8. Performing Organization Report No.
9. Performing Organization Name And Address
Volpe National Transportation Systems Center, U.S. Department of Transportation
55 Broadway, Cambridge, MA 02142
10. Work Unit No. (TRAIS)
11. Contract or Grant No.
HW5NA2
12. Sponsoring Agency Name and Address
Federal Highway Administration
Office of Innovative Program Delivery
1200 New Jersey Avenue, SE
Washington, DC 20590
13. Type of Report and Period Covered
14. Sponsoring Agency Code
15. Supplementary Notes
Contracting Officer's Technical Representative: Patrick DeCorla-Souza, FHWA Office of Innovative Program Delivery
16. Abstract
This guide explains the structure and functions of the P3-VALUE 2.1 analytical tool. The P3-VALUE 2.1 tool can help users understand the processes and considerations that go into a rigorous quantitative analysis of public-private partnership procurement options for transportation projects.
17. Key Words
Public-private partnerships, highways, project delivery, project finance, tolling, real toll concessions, availability payment concessions, long-term lease concessions, SEP-15, GARVEE, TIFIA, Private Activity Bond.
18. Distribution Statement
No restrictions
19. Security Classif. (of this report)
Unclassified
20. Security Classif. (of this page)
Unclassified
21. No. of Pages
112
22. Price
N/A
Form DOT F 1700.7 (8-72) Reproduction of completed page authorized
Preface
The purpose of this guide is to assist users in the use of the updated version of the Public-Private Partnership Value for Money Analysis to Learn and Understand Evaluation tool (P3-VALUE 2.1) and to provide insights into the concepts underpinning the Project Delivery Benefit Cost Analysis (PDBCA) module for highway projects. The overall objective of this combined Value-for-Money (VfM) and PDBCA tool is to facilitate a consistent comparison of Conventional Delivery and Public-Private Partnership (P3) delivery.
Please refer to FHWA's Guidebook for Value for Money Assessment for more information on VfM analysis. For more information on PDBCA, please refer to FHWA's Project Delivery Benefit-Cost Analysis: A Framework. In short, VfM and PDBCA are separate analyses that take different perspectives and help provide answers to the following questions:
Value-for-Money: The VfM analysis typically takes the perspective of the procuring Agency and asks the question: what are the fiscal implications of procuring a project as a P3 compared to a conventionally procured project?
Project Delivery Benefit Cost Analysis: PDBCA is a benefit-cost analysis (BCA) comparison of different delivery models. A BCA typically takes the perspective of society as a whole and asks the question: what are the economic efficiency impacts of a project? In the case of PDBCA, the analysis determines the economic efficiency impacts of a project under various delivery models and compares these delivery models to assess the economic efficiency implications of P3 delivery.
The first version of the P3-VALUE tool consisted of four modules in separate Excel files that enabled users to conduct a VfM analysis. P3-VALUE 2.0 integrated all these separate modules into a single Excel-based tool and added the PDBCA component to it. The latest version of the tool (P3-VALUE 2.1) builds on P3-VALUE 2.0 by modifying a number of calculations, integrating certain additional economic benefits, and adding a simplified input and output mode. It should be noted that the development of P3-VALUE 2.1 was a continuous balancing act between flexibility (necessary for real-life calculations), simplicity (necessary for educational purposes) and complexity (necessary for more accurate calculations). The result is a tool that is relatively easy to use while still allowing for sufficient flexibility. The simplified overall structure of the P3-VALUE 2.1 is shown in Figure 1 below.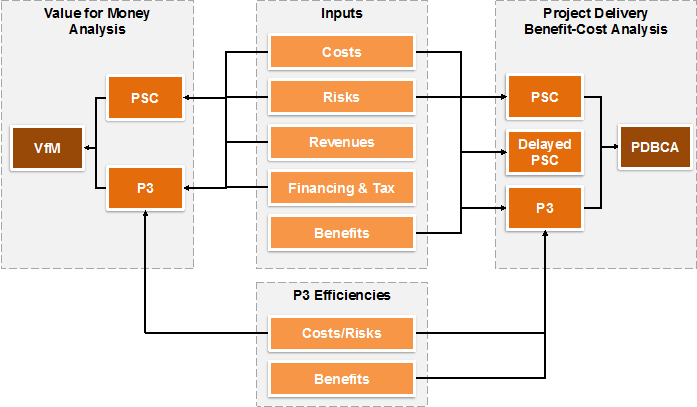 As shown in Figure 1, the tool compares the P3 delivery model to the Public Sector Comparator (PSC or Conventional Delivery, used interchangeably throughout this guide and in the tool) and Delayed PSC. For a discussion on the definition of Delayed PSC, please refer to Part II . As can be seen, the VfM analysis and PDBCA share a number of common elements such as project costs and risks. Other elements such as revenues and financing are used only for VfM, whereas economic benefits are only relevant for PDBCA. P3-VALUE 2.1 enables users to make assumptions regarding P3 efficiencies that may impact the project's costs, revenues, risks and/or benefits, hence helping users distinguish between conventional and P3 delivery. Before discussing the tool in more detail, it is important to explain what P3-VALUE 2.1 can and what it cannot do.
What P3-VALUE 2.1 can do:
P3-VALUE 2.1 enables users to perform a VfM analysis and PDBCA on stylized real-world transactions for educational purposes.
P3-VALUE 2.1 is designed to help users understand the key concepts, assumptions, inputs, calculations, and outputs of VfM and PDBCA.
P3-VALUE 2.1 enables users to evaluate the impacts of various project inputs, assumptions, and scenarios from the perspective of a procuring Agency (financial impacts, VfM) and from the perspective of a society as a whole (social impacts, PDBCA).
P3-VALUE 2.1 can help users explain the analysis results and implications of a selected project delivery method to decision makers.
P3-VALUE 2.1 can assist agencies in conducting an early stage VfM analysis and PDBCA for a real world brownfield highway project in order to estimate the potential financial and social benefits and disbenefits 1 related to different project delivery methods.
P3-VALUE 2.1 can assist agencies in conducting a high-level screening for potential P3 projects.
What P3-VALUE 2.1 cannot do:
P3-VALUE 2.1 does not direct users to a decision about whether or not a project delivery method is the "correct" choice. The tool only educates users about potential benefits and outcomes of one delivery method compared to another. The ultimate decision as to whether a project should be procured as a P3 or not will need to be determined by further detailed and project-specific financial and economic analysis, as well as other social, institutional and legal considerations.
Tool Objectives
P3-VALUE 2.1 has both an educational and a transactional objective. The tool aims to demonstrate to users how to perform a VfM analysis and PDBCA, thereby enabling them to reach the following educational objectives:
Understand key concepts underlying VfM and PDBCA.
Understand the impacts of various assumptions and inputs on VfM and PDBCA outputs.
Explain the results and implications of analyses for selected project delivery methods.
Conduct a VfM analysis and PDBCA at a conceptual level.
P3-VALUE 2.1 enables users to carry out a high-level analysis of a real-world highway project, thereby enabling users to reach the following transactional objectives:
Develop and analyze a simple customized transaction that captures key aspects of VfM and PDBCA.
Provide guidance to financial experts performing VfM/PDBCA for a specific highway project.
Teaching Methods
The P3-VALUE 2.1 tool incorporates a variety of technically challenging concepts and may be considered relatively complex due to the fact that it includes both VfM and PDBCA. Although this document provides a guide to navigate the tool, enter inputs, and review outputs, it does not aim to discuss in detail the calculations performed by the tool. However, the guide does explain the most important concepts used in the tool, which are discussed in the Part II of this guide. Furthermore, it is recommended that the user develop a thorough understanding of Value for Money and Benefit Cost Analysis (BCA) fundamentals before using this tool. In order to assist users in developing a thorough understanding of the BCA fundamentals used in this tool, FHWA has made available a guide on the Project Delivery Benefit-Cost Analysis framework. Additionally, a training module has been created to accompany the P3-VALUE 2.1 tool. It is recommended that users of P3-VALUE 2.1 attend one of the P3 evaluation training courses or webinars offered by FHWA. The training course and a series of webinars will help the user understand key concepts, and will provide the opportunity to become familiar with the tool using a stylized real-world example. Considering the aforementioned, the tool supports three types of methods for professionals to learn about the concepts covered in P3-VALUE 2.1:
Guided Learning: The tool enables users to learn through in-person lectures, webinars, and instructional aids. This teaching method offers a structured curriculum, and instructs users with a step-by-step process on how to use the tool. The guided learning is led by experienced professionals, and it is taught to users with limited experience. A well-designed demonstration project case accompanies this training to highlight key aspects of VfM and PDBCA and to facilitate the learning process.
Self-Paced Learning: The user can utilize a pre-populated scenario and learning material without instructors. The user has the ability to learn at their own pace or re-master the material taught from the guided learning phase. The tool enables users to experiment with various inputs and scenarios in order to enhance their understanding of VfM and PDBCA.
Action Learning: The user can learn by applying concepts and methods taught in the previous two phases to projects that the user is intimately familiar with. The user, now with a general understanding of the drivers, calculations, and possible benefits of P3 delivery, can determine, at a conceptual level, how different types of project delivery may impact his/her own projects. It is to be noted that P3-VALUE 2.1 is not intended as a transactional model, and for detailed analysis, a customized financial model should be built.
Guide Structure
This guide contains two separate parts to support a user's learning: User Guide (Part I) and Concept Guide (Part II). The User Guide describes in detail the tool's structure, how to use and navigate the model as well as what inputs are required for the model to carry out the different analyses. Furthermore, the User Guide discusses the model's calculations and presents its various outputs. The Concept Guide on the other hand describes the key concepts that underpin P3-VALUE 2.1's calculations. As a result, Part II is more conceptual and less "hands on" than Part I.
Footnotes
1 A disbenefit is a negative benefit, such as an increase in delays or higher emissions.